I'm sure this has never happened in any D&D session ever, but what if the players thought it would be fun to see if they could ride a monster. Today's post is kinda like that except these monsters are designed to be ridden. Warhorses are great and all, but it's time to give the ole steed an upgrade.
7 Awesome D&D 5e Exotic Mounts
Animakee
Divine Wolf
Elken
Giant Tarantula
Knoggle
Shadow Panther
Wooly Rammoth
1. Animakee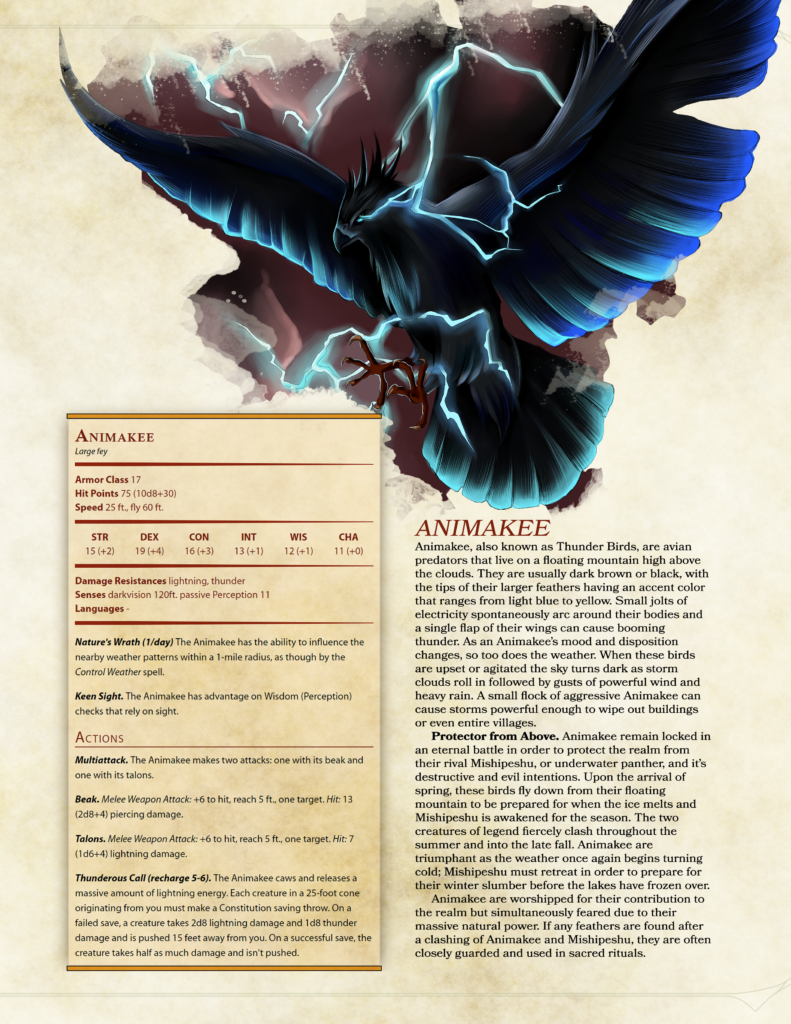 Animakee, also known as Thunder Birds, are avian predators that live on a floating mountain high above the clouds. They are usually dark brown or black, with the tips of their larger feathers having an accent color that ranges from light blue to yellow. Small jolts of electricity spontaneously arc around their bodies and a single flap of their wings can cause booming thunder. As an Animakee's mood and disposition changes, so too does the weather. When these birds are upset or agitated the sky turns dark as storm clouds roll in followed by gusts of powerful wind and heavy rain. A small flock of aggressive Animakee can cause storms powerful enough to wipe out buildings or even entire villages. 
Protector from Above. Animakee remain locked in an eternal battle in order to protect the realm from their rival Mishipeshu, or underwater panther, and it's destructive and evil intentions. Upon the arrival of spring, these birds fly down from their floating mountain to be prepared for when the ice melts and Mishipeshu is awakened for the season. The two creatures of legend fiercely clash throughout the summer and into the late fall. Animakee are triumphant as the weather once again begins turning cold; Mishipeshu must retreat in order to prepare for their winter slumber before the lakes have frozen over. 
Animakee are worshipped for their contribution to the realm but simultaneously feared due to their massive natural power. If any feathers are found after a clashing of Animakee and Mishipeshu, they are often closely guarded and used in sacred rituals. 
2. Divine Wolf
Much like fingerprints and snowflakes, every Divine Wolf has markings on its fur that are completely unique to the individual. In general, they have a beautiful silver coat of fur with magnificent markings on their face and along their body that radiate with holy energy. At first glance the patterns may all look the same, but the differences become obvious to people who have spent an extended amount of time around Divine Wolves. Their markings are the most detailed on their faces – where they look similar to face paint – while the markings along their body are simple lines and stripes.
Out of this World. Divine Wolves are originally from Kenbe, the realm within the Outer Planes. During the day Kenbe is similar to the material plane. Key differences include the perpetually blooming forests and the completely circular rainbow that hangs like a halo in the sky. As the sun sets, the land becomes a nightscape of dancing lights. Much of the flora glow and emit flashes of light when touched or moved, and the circular rainbow dissolves into a dazzling aurora display. Divine Wolves co-exist with many other species on Kenbe, who all live in relative harmony. The Wolves still have a primal side however and are known to seek out hordes of the undead to fight them as sport.  
A Righteous Steed. Paladins, Clerics, and other holy figures often seek out a Divine Wolf as a mount due to the wolf's celestial nature and natural prowess for fending off the undead. If someone bonds with a Divine Wolf and establishes a relationship built on trust, then the Wolves do not mind having a rider and may even see them as equal peers. Acquiring such an elegant and powerful mount is, of course, no easy task. Many monasteries and religious orders put together pilgrimages and missions to the Kenbe in an attempt to secure these creatures as companions. Though many people have lost their life on this journey, those who succeed often begin secretly breeding and raising their own Divine Wolves to ensure future access to these mounts.
3. Elken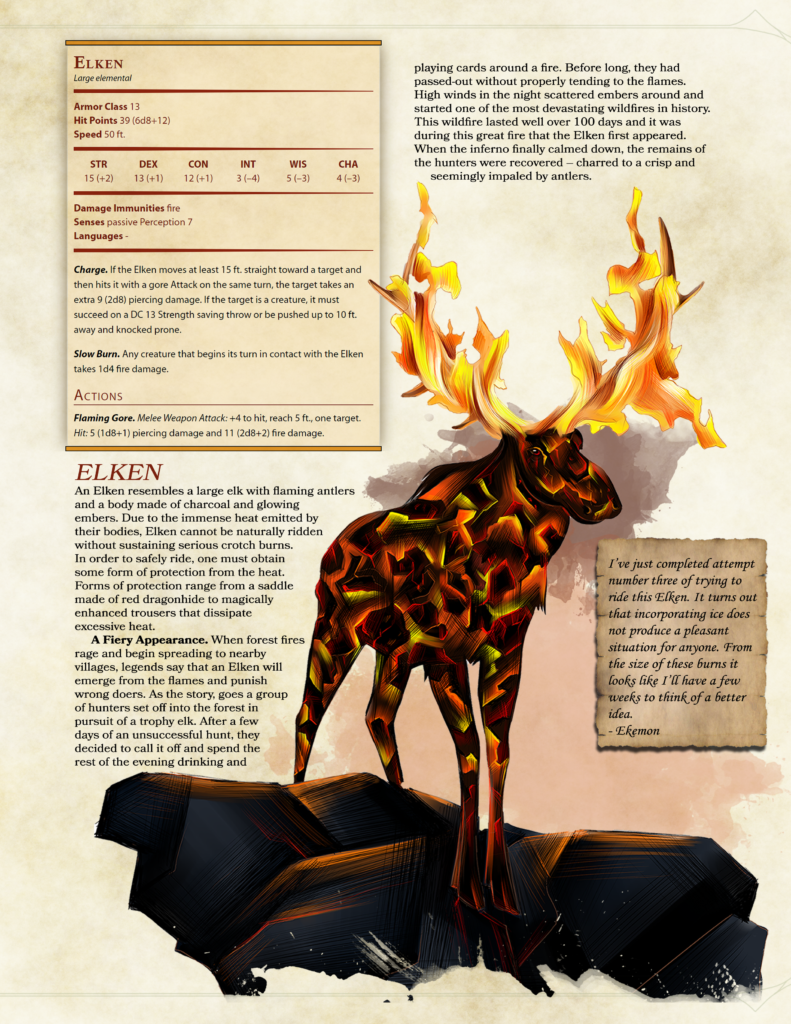 An Elken resembles a large elk with flaming antlers and a body made of charcoal and glowing embers. Due to the immense heat emitted by their bodies, Elken cannot be naturally ridden without sustaining serious crotch burns. In order to safely ride, one must obtain some form of protection from the heat. Forms of protection range from a saddle made of red dragonhide to magically enhanced trousers that dissipate excessive heat.
A Fiery Appearance. When forest fires rage and begin spreading to nearby villages, legends say that an Elken will emerge from the flames and punish wrong doers. As the story, goes a group of hunters set off into the forest in pursuit of a trophy elk. After a few days of an unsuccessful hunt, they decided to call it off and spend the rest of the evening drinking and playing cards around a fire. Before long, they had passed-out without properly tending to the flames. High winds in the night scattered embers around and started one of the most devastating wildfires in history. This wildfire lasted well over 100 days and it was during this great fire that the Elken first appeared. When the inferno finally calmed down, the remains of the hunters were recovered – charred to a crisp and seemingly impaled by antlers. 
4. Giant Tarantula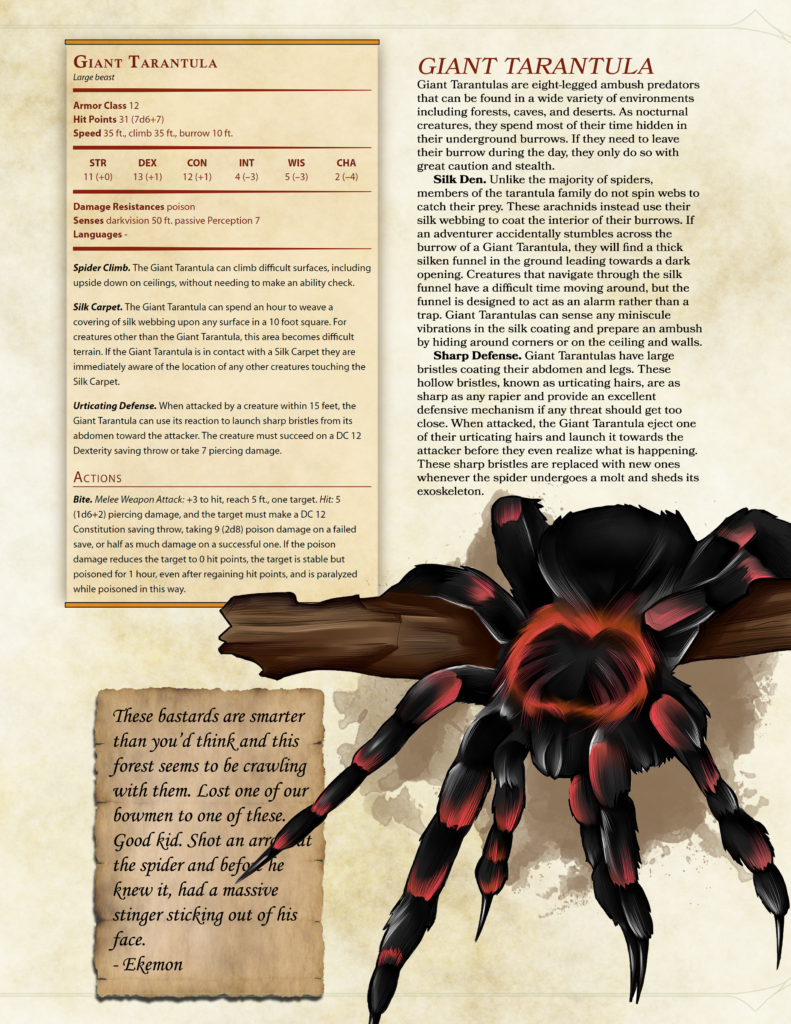 Giant Tarantulas are eight-legged ambush predators that can be found in a wide variety of environments including forests, caves, and deserts. As nocturnal creatures, they spend most of their time hidden in their underground burrows. If they need to leave their burrow during the day, they only do so with great caution and stealth.
Silk Den. Unlike the majority of spiders, members of the tarantula family do not spin webs to catch their prey. These arachnids instead use their silk webbing to coat the interior of their burrows. If an adventurer accidentally stumbles across the burrow of a Giant Tarantula, they will find a thick silken funnel in the ground leading towards a dark opening. Creatures that navigate through the silk funnel have a difficult time moving around, but the funnel is designed to act as an alarm rather than a trap. Giant Tarantulas can sense any miniscule vibrations in the silk coating and prepare an ambush by hiding around corners or on the ceiling and walls.
Sharp Defenses. Giant Tarantulas have large bristles coating their abdomen and legs. These hollow bristles, known as urticating hairs, are as sharp as any rapier and provide an excellent defensive mechanism if any threat should get too close. When attacked, the Giant Tarantula eject one of their urticating hairs and launch it towards the attacker before they even realize what is happening. These sharp bristles are replaced with new ones whenever the spider undergoes a molt and sheds its exoskeleton.
5. Knoggle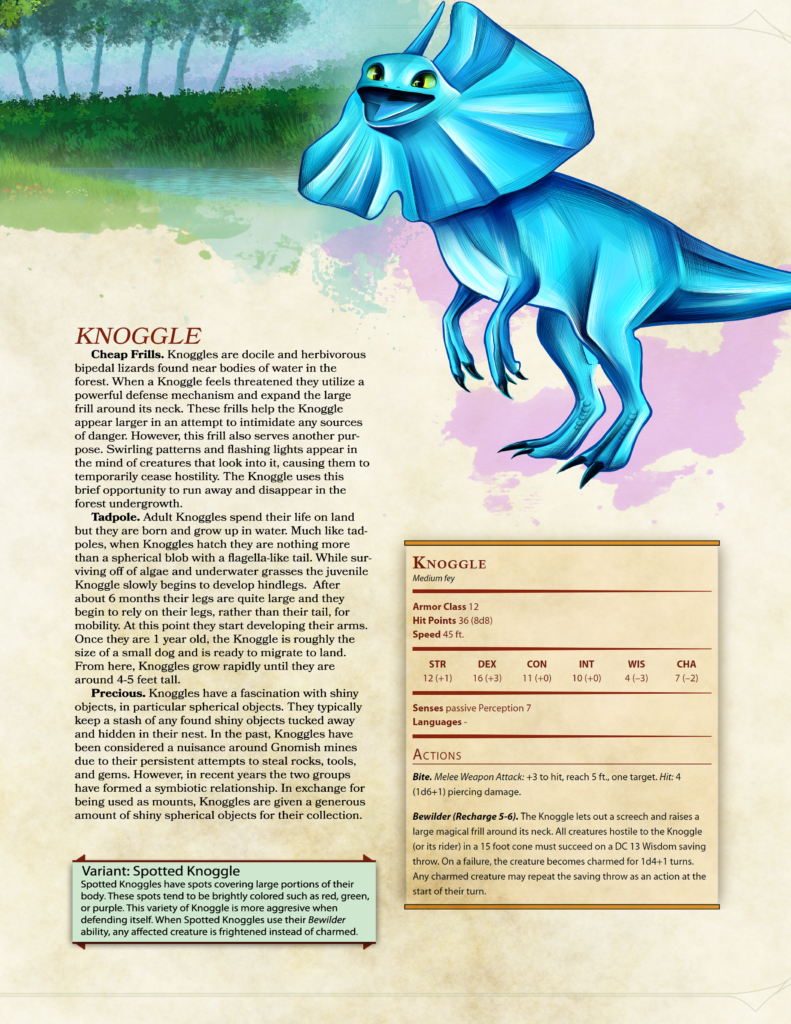 Cheap Frills. Knoggles are docile and herbivorous bipedal lizards found near bodies of water in the forest. When a Knoggle feels threatened they utilize a powerful defense mechanism and expand the large frill around its neck. These frills help the Knoggle appear larger in an attempt to intimidate any sources of danger. However, this frill also serves another purpose. Swirling patterns and flashing lights appear in the mind of creatures that look into it, causing them to temporarily cease hostility. The Knoggle uses this brief opportunity to run away and disappear in the forest undergrowth.
Tadpole. Adult Knoggles spend their life on land but they are born and grow up in water. Much like tadpoles, when Knoggles hatch they are nothing more than a spherical blob with a flagella-like tail. While surviving off of algae and underwater grasses the juvenile Knoggle slowly begins to develop hindlegs. After about 6 months their legs are quite large and they begin to rely on their legs, rather than their tail, for mobility. At this point they start developing their arms. Once they are 1 year old, the Knoggle is roughly the size of a small dog and is ready to migrate to land. From here, Knoggles grow rapidly until they are around 4-5 feet tall.
Precious. Knoggles have a fascination with shiny objects, in particular spherical objects. They typically keep a stash of any found shiny objects tucked away and hidden in their nest. In the past, Knoggles have been considered a nuisance around Gnomish mines due to their persistent attempts to steal rocks, tools, and gems. However, in recent years the two groups have formed a symbiotic relationship. In exchange for being used as mounts, Knoggles are given a generous amount of shiny spherical objects for their collection.
6. Shadow Panther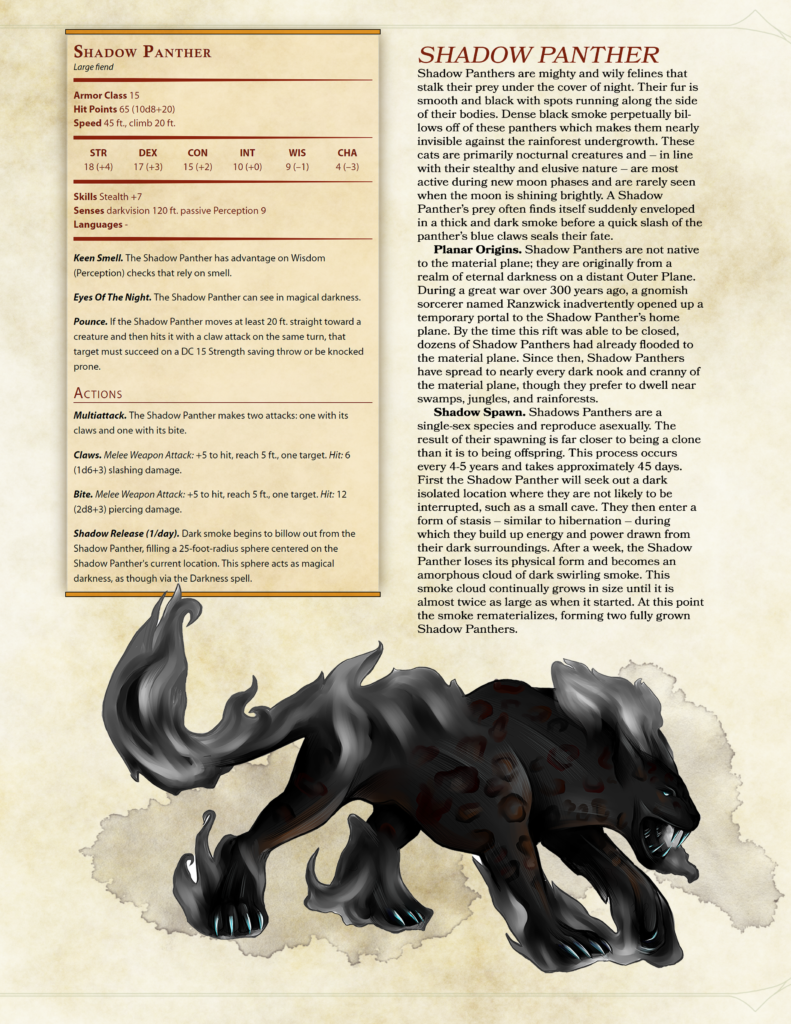 Shadow Panthers are mighty and wily felines that stalk their prey under the cover of night. Their fur is smooth and black, with spots running along the side of their bodies. Dense black smoke perpetually billows off of these panthers which makes them nearly invisible against the rainforest undergrowth. These cats are primarily nocturnal creatures and, in line with their stealthy and elusive nature, are most active during new moon phases and are rarely seen when the moon is shining brightly. A Shadow Panther's prey often finds itself suddenly enveloped in a thick dark smoke before a quick slash of the panther's blue claws seals their fate.
Planar Origins. Shadow Panthers are not native to the material plane; they are originally from a realm of eternal darkness on a distant Outer Plane. During a great war over 300 years ago, a gnomish sorcerer named Ranzwick inadvertently opened up a temporary portal to the Shadow Panther's home plane. By the time this rift was closed, dozens of Shadow Panthers had already flooded through the gates. Since then, Shadow Panthers have spread to nearly every dark nook and cranny of the material plane, though they prefer to dwell near swamps, jungles, and rainforests.
Shadow Spawn. Shadows Panthers are a single-sex species and reproduce asexually. This process is far closer to cloning than it is to having typical offspring. It occurs every 4-5 years and takes approximately 45 days. First the Shadow Panther will seek out a dark isolated location where they are not likely to be interrupted, such as a small cave. They then enter a form of stasis – similar to hibernation – during which they build up energy and power drawn from their darkened surroundings. After a week, the Shadow Panther loses its physical form and transforms into an amorphous cloud of dark swirling smoke. This smoke cloud continually grows in size until it is almost twice as large as when it started. At this point the smoke rematerializes, forming into two fully grown Shadow Panthers.
7. Wooly Rammoth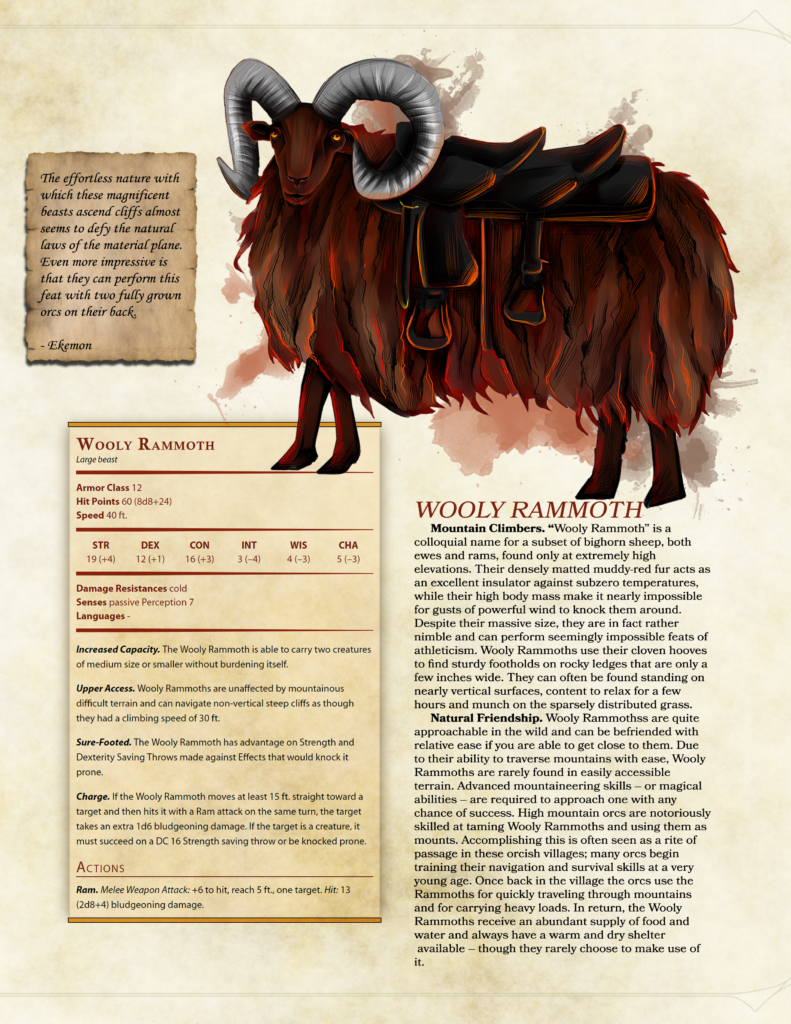 Mountain Climbers. "Wooly Rammoth" is a colloquial name for a subset of bighorn sheep, both ewes and rams, found only at extremely high elevations. Their densely matted muddy-red fur acts as an excellent insulator against subzero temperatures, while their high body mass make it nearly impossible for gusts of powerful wind to knock them around. Despite their massive size, they are in fact rather nimble and can perform seemingly impossible feats of athleticism. Wooly Rammoths use their cloven hooves to find sturdy footholds on rocky ledges that are only a few inches wide. They can often be found standing on nearly vertical surfaces, content to relax for a few hours and munch on the sparsely distributed grass.
Natural Friendship. Wooly Rammoths are quite approachable in the wild and can be befriended with relative ease if you are able to get close to them. Due to their ability to traverse mountains with ease, Wooly Rammoths are rarely found in easily accessible terrain. Advanced mountaineering skills – or magical abilities – are required to approach one with any chance of success. High mountain orcs are notoriously skilled at taming Wooly Rammoths and using them as mounts. Accomplishing this is often seen as a rite of passage in these orcish villages; many orcs begin training their navigation and survival skills at a very young age. Once back in the village the orcs use the Rammoths for quickly traveling through mountains and for carrying heavy loads. In return, the Wooly Rammoths receive an abundant supply of food and water and always have a warm and dry shelter available – though they rarely choose to make use of it.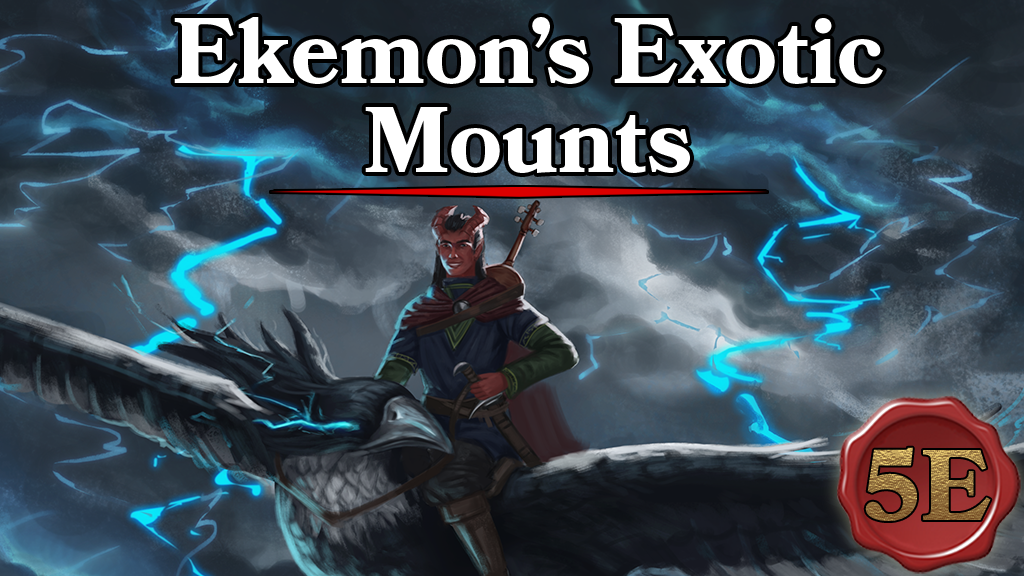 If you enjoyed this article, be sure to check out Ekemon's Exotic Mounts, available now!
Ekemon, the charismatic tiefling bard, has traveled to every corner of the realm befriending creatures and documenting their habits. Whether it's a temple in the depths of the rainforest or a floating mountain above the clouds, Ekemon has seen it all. Now he's compiled some of his knowledge into a handy field guide to help other adventurers!
Thanks for reading, and stay awesome! 
What sort of creatures have players ridden in your campaigns? 
Let me know at aaron@thealpinedm.com!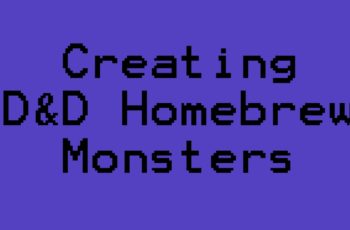 Do you want to design awesome DnD Homebrew monsters but...
Read More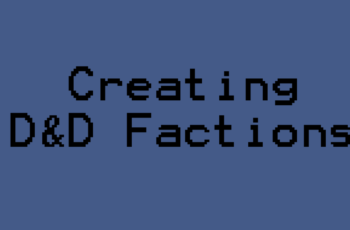 Create your own exciting D&D faction by walking through 20...
Read More