Every DnD campaign features travel encounters in one way or another. These might be somehow tied into the main plot, or they could just be absolute nonsense and exist as an encounter just for fun. Either way, if you're running out of ideas or want to have a travel encounter with minimal prep, check out the list below.
This Article will Discuss:
Bandit Attack (of course)
Goblin Illusionists
The Blood Toll
Magical Merchant
Watch me Whip, Watch me Neigh Neigh
1. Bandit Attack (of course)
As the party travels down the road, they face off against a classic bandit encounter (get bandit stats here). The bandit, let's call him Lester, who attacks the party is from a small town that was recently destroyed in a dragon attack. Lester went to a nearby city to seek refuge, but was turned away. In order to survive and provide for his adorable dog, the bandit has turned to a petty life of highway robbery. Their goal is always just about money, and they want to avoid hurting people.
Lester is not the most convincing or confident robber, and he can be persuaded into making better life choices with a successful DC 14 Persuasion/Intimidation Check. If it comes to combat, he will surrender when he gets below half of his hit points – collapsing to the ground crying and begging, apologizing. 
"You're slowly making your way through the lightly wooded forest, when suddenly a hooded figure jumps in front of you; they're wearing dark leather armor covered in dirt and small bits of blood. 'Stop right there!' they snarl at you while swinging a sword in your general direction, 'Empty out your bloody pockets and nobody gets hurt'"
2. Goblin Illusionists
In this dnd travel encounter, the players are going through a thick forest and come across a fallen tree and a clever trap laid by a pair of goblin illusionists (use the stats here, with the following changes: HP 25 and access to the spell Major Image). The two goblins have climbed into trees on opposite sides of the road and are well hidden (DC 16 Perception Check to spot). Working together, the skilled goblin illusionists are creating a detailed illusion of a traveling merchant trapped under the fallen tree. A PC can use its action to examine the merchant and determine that it is an illusion with a successful DC 16 Intelligence (Investigation) Check.
The goblin's goal is to draw the PCs as close to the 'merchant' as possible and keep them distracted. When the goblins feel that the moment is right, they will both throw a bottle of Alchemists Fire towards the PCs (+4 to hit, see details on Alchemists Fire here) and then repeatedly attack with their shortbows.
"As you come around the bend, you see a middle aged human trapped under a fallen log. The nearby cart filled with wares suggests that they are a traveling merchant. The trapped merchant is clearly struggling and in pain and, when they see you, begins to call out for your aid."
3. The Blood Toll
When the DnD party is traveling through the mountains and over a pass, they spot a small Orcish encampment ~50 yards ahead of them. With no reasonable way around the Orcs, aside from scaling sheer cliffs or using magic, the party must either continue through or turn back. The Orcs in this camp are all priests, and belong to a sect that worships a God of Vitality. They are reasonably friendly when approached, but will stop the party and demand a small blood sacrifice from each party member before allowing them to pass (A PC would know this information with a successful DC 13 Religion Check). If the party is agreeable, the Orcs will be open to any discussions or trades, and may even provide lodging or meals. 
A small amount of blood (minimum of 2 points of damage worth) must be collected into a communal pot. This can be self-inflicted, or the leader of the Orc priests will gladly perform a brief ritual with a sacred dagger. If the PCs refuse, the Orcs will not let them pass and will insist that it is truly for their own safety – their God demands a sacrifice in order to pass through these holy lands. Ultimately if the PCs are not willing to give up a blood sacrifice, 1d6+3 Orcs (use these statistics with the following changes: able to cast Cure Wounds 3/day, able to cast Bane at will) will fight to the death in order to maintain relations with their god.
"As you come to the false summit, you instantly see a small cluster of hide-tents, a large firepit, and approximately half a dozen Orcs. The Orcs are all wearing bright blue robes with a red eye embroidered on the back. They seem to be minding their own business and are taking care of domestic type tasks (tending to sheep, cooking, tanning a hide, weaving a basket). Despite their docile-seeming nature, you do notice that there are various axes and javelins scattered around the camp."
4. Magical Merchant
The really nice thing about using a magical traveling merchant is that they can literally appear ANYWHERE (especially where you least expect it) and can be used multiple times over the course of a campaign as a minor recurring NPC. You can just use it as a fun random non-combat encounter, or you can have them deliver relevant plot hook info.
The players, while walking down the road or where ever they are, suddenly find a small covered wagon being pulled by a giant lizard covered in glowing symbols. The gnome Ranzwick sits atop the lizard and excitedly waves and greets the PCs. He will introduce himself and ask the players if they are in need of any adventuring supplies (he explains that he has 'a little bit of this…a little bit of that' with a wink).
If PCs want to browse his wares, he excitedly hops off the lizard and brings any interested PCs to the wagon. Ranzwick takes off the wagon's cover – revealing it to be a ladder leading into an extradimensional storefront – and climbs in. The interior of his shop is similar to an antique store managed by a chimpanzee. It's a simple and small extradimensional space (15 ft x 15 ft) with a few tables covered in unorganized piles of trinkets, boxes, and bottles. It's up to you as the DM to determine what you want Ranzwick to sell… it all just depends on your world and the PCs current level. 
Directly in front of you – seemingly out of nowhere – you spot a purple-robed gnome riding a giant lizard. The lizard, which you notice has glowing runic symbols all over its body, is pulling a small wagon covered with a red cloth. The gnome notices you immediately, stops his lizard, and begins waving enthusiastically. 'Funny running into other folks in a place like this… I'm Ranzwick, this is my store, and it is an absolute joy to make your acquaintance.'
5. Watch Me Whip, Watch me Neigh Neigh
Yes, the name is based off of a terrible yet somehow catchy song. Anyway…
While the PCs are traveling down the road, they spot two slavers riding horses (when the PCs get closer, they realize the slavers are not actually on horses, and are in fact centaurs). The slavers are using their whips to 'motivate' a group of humans who are chained and pulling a cart like a pack of sled dogs. The centaurs would call themselves purists, and believe that humans are an inferior race. These purists would much rather be 100% horse instead of half-horse/half-human, however they decided to make use of their appendages and capture as much of the plague that is humanity as possible. 
If the PCs approach or try to pass them on the road, the centaurs are friendly and will greet them unless there are humans in the party. In that case, the centaurs will be hostile and accuse the other party members of being 'pathetic human lovers'. PCs can calm the centaurs by claiming that the humans in the party are, in fact, their own slaves with a successful DC 15 Deception Check. Alternatively, PCs can not-so-politely tell the centaurs to fuck off with a successful DC 18 Intimidation Check. 
The centaurs will not attack unless provoked (or if PCs try to rescue the human slaves). If it comes to combat, use the centaur stats here. One centaur will rush up and use its pike and hooves attack while the other stays near the human slaves and uses its longbow. They will fight to the death. 
The loud crack of a whip immediately grabs your attention. Looking down the road, you see two individuals on horses yelling at a group of humans. You can see that the humans have collars around their necks and are attached to a sizeable wooden cart with chains. One of the individuals on a horse whips one of the humans, who lets out of shrill cry of pain. Your gaze meets the eyes of a captive human, and they silently plead with their eyes for your help.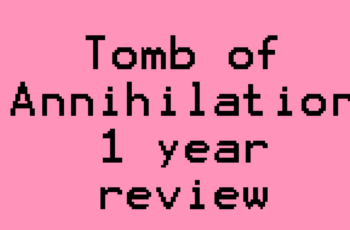 After running tomb of annihilation for a year, here's the...
Read More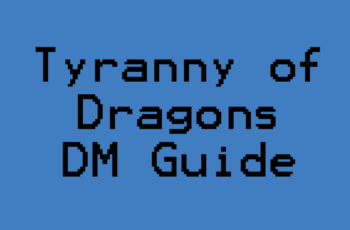 Want to fight Tiamat? Check out this Tyranny of Dragons...
Read More