$9.99
Absolutely everything you need to get started with over 35 pages packed full of expanded value and easy-to-understand concepts.
Save countless hours of prep time with printable templates for describing scenes, NPCs, and more!
Quickly reference thought-provoking prompts and questions across multiple viewing devices
Description
Worry less and play more with The Alpine DM's Start a Campaign: Your First Homebrew. This book is perfect for beginner Dungeon Masters who want to run their first homebrew game, or long-time veterans wanting to brush up on their skills. Each chapter provides questions and examples, as well as a checklist of action steps to get you rolling.
Covered in this ebook:
Designing a general story arc
Creating NPCs
Describing a scene
Building a starting location
Implementing plot hooks
Adapting to player actions, and
Where to go next?
Preview #1: Designing a general story arc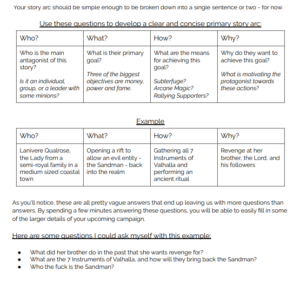 Preview #2: Districts of a town