Taverns, pubs, bars, inns, drinkin' holes, speakeasies. Whatever you want to call it, the  imaginary place where PCs get drunk is an absolutely staple in every campaign. Here, your table's intrepid group of adventurers will partake in buffoonery (including but not limited to: drinking, stealing, gambling, fighting), meet NPCs and forget their names, and find new ways to make coin. Doing lots of roleplaying and acting out social scenes definitely isn't everybody's cup of tea, but if you do want to include a lively tavern scene then gather round and raise your hand if you have any questions. Today, we're going to be creating better DnD Taverns!
Today's Article will Discuss:
Why make better DND Taverns?

Identity

Vibe Check

Uniqueness
Why make DnD Taverns…Better?
Remember all the things I just said about baffoonery? Well having a 'better' tavern can make the shenanigans more fun. There's no need to overthink this too much. 
And by better, I mean rich descriptions and fleshed-out details that make a tavern stand out. The idea is that later in the campaign when PCs visit a different tavern in a different town, that tavern will have a noticeably different 'feel' than the first one. 
DnD Tavern Identity 
Okay, the first and arguably most important question that everything else will be built upon: where is the tavern within your dnd world? Because you know what they say…
"Location, location, location" – They
A tavern in an underground dwarven stronghold is going to be different from a tavern on a beach near the jungle. 
Secondly:
Who does it serve?
The clientele of a bar are a good representation of the bar itself. Who are the regulars that come here? Fancy pants wizards and scholars would probably want to go to a different bar than farmers or the town's guard. 
These two answers will begin guiding you on your journey to coming up with the bar's identity. Think about this in real life. Let's say you live in a major urban city with 4 nearby bars. One of these bars could cater to broke college students, while another focuses on serving high class fancy wines. One could be based on watching sports teamz, but a different bar acts as a dance club. In this case the general location is the same, but each 'tavern' will be a completely different experience. 
The same concept can carry over to your DnD and worldbuilding adventures.
Let's just assume you have a large city somewhere within your dnd world. An example in this city be a no-frills pub that serves cheap liquor to tired laborers at the end of their shift, an underground bar that holds friday night fight night for beefcakes, meatheads, and everything in between, or a password-only ale room hidden within an upper echelon library where certain rules and restrictions apply. 
Take a minute to broadly define your brand new amazing incredible tavern's location and customer base. 
DnD Tavern Vibe Check

 
In this section, I want you to be thinking about how it really 'feels' when someone enters the dnd tavern, especially for the first time. What sort of vibes do they pick up on? What is the atmosphere like? 
Think about who the regular customers are (which you just defined in the last section), and what sort of personality traits they exhibit as well as what aspects of a tavern would they appreciate? 
Imagine two different scenarios. The PCs walk into a tavern and. . .
Jovial music rushes over them. Everyone is smiling and laughing, and a few gnomes have even decided to dance on the tables. The barkeep is trying to get them down, and although they are mildly frustrated you can tell they are also quite amused. 
VS
They hear arguing and the sound of a glass breaking. Suddenly everybody stops talking and immediately looks towards the PCs in a very unwelcoming manner. The room is tense. The barkeep glares at the PCs, spits out his tobacco, and then in a grizzly voice says "You ain't from around here, is ya?"
Each of these dnd taverns gives off a completely different vibe! Use the following mini-prompts to help decide the vibe that your newly created tavern will have.
Is there any music or singing? If so, what kind? 

Is this the sort of tavern where people play games at? Darts, cards, dice, kobold wrestling, I don't know?

What kind of energy does the tavern give off? Yeah it's kind of a woowoo-y question, but if we're talking about vibe checks then it's worth asking. Pick a word or two and go with it. Here are a few e

xamples: t

ranquil, l

ively, h

ostile, c

haotic, s

nooty, g

rimey
Alright now that you've thought about that a little bit, I want you to create a nice full sentence (and only one sentence) that combines the bar's identity (WHERE and WHO) with the vibe.
Uniqueness in your DnD Tavern
So far I think you're doing fantastic, champ. You're well on your way to making the best dnd tavern that has ever been created (maybe). Something else you'll want to consider is whether there is anything special or unique to this bar. There doesn't necessarily need to be one, but it can be a nice little feature to have that helps set the tavern apart from other taverns in your world. With that being said, certainly don't think that every tavern needs to be some wacky zany place located on the edge of a volcano just to make it memorable. 
The unique feature could be based on the bar's location (built out of an old shipwreck, sits in the highest tower in the kingdom, open-air graveyard bar, etc), but it certainly doesn't have to be. Here are a few ideas of unique features that aren't based on location.  
Maybe this dnd tavern has a specialty ale that has had some mild magical infusions that cause it to have short term psychedelic effects. 
Maybe your tavern hosts weekly competitions where dwarves gather and slam some hard liquor before trying to carve trinkets from monster bones. 
The tavern might have an 'open mic night' that gives townsfolk the chance to voice their opinions or try out the performing arts. 
This tavern could have a permanent enchantment that inverts the gravity just for the sake of fun and novelty. Or maybe the tavern is completely concealed in magical darkness and patrons must rent a special pair of goggles that allow them to see. 
There was a bit more that I wanted to add into this article, but unfortunately I was up until 4am dealing with some bullshit russian bot spamming orders and trying to get into the site. . . so it looks like it'll have to be split into two parts (stay tuned for part 2). 
If you found this article helpful, please share it with a friend or let me know what you think (aaron@thealpinedm.com)!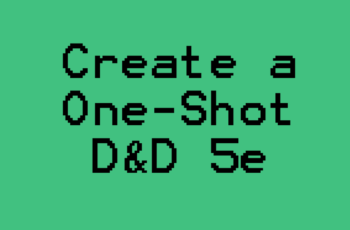 If you're crunched on time, or just want to switch...
Read More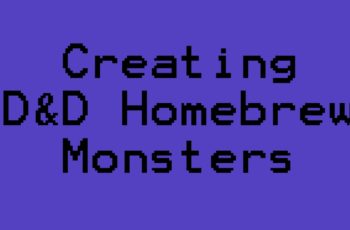 Do you want to design awesome DnD Homebrew monsters but...
Read More