Whether you're just starting off a campaign or finishing up a story arc, you've decided that its time to craft a new villain for the party to face off against. If you have absolutely no idea where to start: just sit back, relax, and grab an ice cold draft brew (or whatever). I'll be going through the process of making a villainous zealot and hopefully it gives you some ideas for your own campaigns.
This article will discuss:
What is a Zealot?
Creating a Zealot

Step 1: Who are they?
Step 2: What is their Truth?
Step 3: How will they accomplish spreading the Truth?
What is a Zealot?
Although there is some historical context in reference to Zealots, I'm talking more about the general use of the term. A zealot is a fanatical person who is really into a concept. Like reeeaaalllllyyyy into it, as in they might start a holy war over promoting or protecting their cause.
The term is most often used in reference to strong religious beliefs, but in the broad sense could also describe individuals with unwavering political, nationalistic, or moral ideologies. One of the differences that separates zealots from other villains is that what they seek to gain is bigger than themselves. A zealot is not fueled by a desire to gain physical wealth or to settle a vendetta – although these may be side effects – but rather a zealot is driven by an unshakable desire to bring their version of "The Truth" (whatever that might be) to the world.
Here's some synonyms and adjectives to describe a Zealot:
Fanatic
Devout
Extremist
Militant
Radical
Crusader
Intense
Passionate
Fervid
Examples of Zealots
1. High Sparrow – Game of Thrones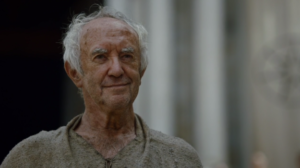 2. Father Comstock – Bioshock: Infinite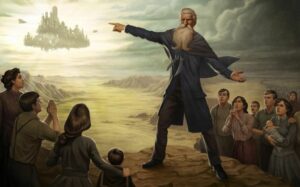 3. Tobi – Naruto
Creating a Zealot
With a basic definition out of the way, I'll now be spending the rest of the article walking through the steps of actually creating an example zealot, The Sun Rabbit, for use in a game. Try to think of this process as 'laying the framework' rather than creating a polished NPC. Pretty much every NPC I've ever designed, including villains, has been shaped and changed through their interactions with the world and with the players. 
Step 1: Who are they?
The very first thing you'll need to do is figure out who the zealot is. Try coming up with a few bullet points for each item in the following template:
Name of Zealot
Race, Age, Gender
Physical Description
Unique Trait
Name of Zealot:
The Sun Rabbit
Though not required, you may want to consider using an official sounding title when giving your zealot a name. Pick something that conveys a sense of importance, status, or mystique. 
Race, Age, Gender:
Elf, Middle-Aged, Male
These can really be whatever you want. Pick something and roll with it, don't think too hard unless it matters for some story reason. Lots of religions are super patriarchal, so an older father figure is a solid choice for a zealot.
Physical Description: 
"The individual is dressed in brilliant yellow robes, the silk gracefully flowing with his every movement. Blond tufts of hair stick out from underneath his crown, which appears to be made of woven gold and has two prominent rabbit ears sticking up. The man clutches an ornamental scepter as he delivers a passionate speech from the podium." 
You don't need an incredibly detailed description of everything they're wearing. Think about what you'd notice with a quick glance if you passed this person on the street. This might include their hair (style and color), brief description of clothing, and any prominent items or accessories. Include any symbols or images that represent their beliefs. 
Unique Trait:
Whenever the Sun Rabbit is in groups of 3 or more, he is VERY expressive. He speaks loudly, uses large hand gestures, and drags out certain words for emphasis. I'm picturing an over-the-top televangelist. 
Think of something to make this individual stand out from other NPCs. This could include their mannerisms, a commonly used phrase, or their posture. You want to be sure the players remember the zealot. 
Step 2: What is their Truth?
As mentioned earlier, zealots passionately advocate their beliefs (or as I'm calling it, their 'Truth'). When deciding on their Truth, you'll want to really think BIG! You don't need to come up with an entire religion or have everything figured out completely. The details can come later (let the player choices help with that). Take a seemingly normal idea and throw in a dash of crazy and a pinch of extremism. Basically turn that shit all the way up to 11. 
Examples:
Normal Idea: Spread the good word of 'XYZ Religion'

Zealot Version: 'Area 7' is holy land, and anyone on this land will be converted to 'XYZ Religion' by any means necessary

Normal Idea: Crime is bad

Zealot Version: Criminals will be rounded up and sent to "Atonement Camps"

Normal Idea: Giving financially to the church is appreciated

Zealot Version: Those who do not give tithe will be violently ostracized
If you want to get into a bit more of the worldbuilding aspect, you can dive in and try to answer the question "Where did this Truth come from?". I can think of two possibilities off the top of my head, but there are certainly other options. 
Misinterpretation or literal interpretation of a sacred text
Divine information (true or not) received in the form of visions, voices, and omens
For the example zealot, The Sun Rabbit, I've decided that his Truth relates to the cessation of eating meat. The Sun Rabbit claims to receive visions from their god with instructions to implement a new tenet of their religion: shift people away from meat and towards a plant-based diet.
Step 3: How will they accomplish spreading the Truth?
With their primary objective figured out, it's now time to decide how the heck they're gonna actually make it happen. For this step you basically need to step into the shoes of your new zealot and do some brainstorming. After all, if they're going to be a villain in your campaign they gotta be doing some villainous things.
What is/was stopping them?

Think about the circumstances of your campaign. So far, what has been preventing your zealot from making their Truth a reality? It could be due to insufficient funding, strong opposition, or lack of support.
The Sun Rabbit did not previously have enough manpower. However the previous leader of their religion has passed away, and The Sun Rabbit is now in charge.
What are some action steps?

Think about some actions that your zealot could take to move them closer to their goal. I like the idea of starting these off as small, seemingly innocuous, actions. Then over time, as their support grows, their actions become more bold and questionable. The zealot does not need to immediately be exhibiting villainous behavior unless you want them to.  
Here are some progressively extreme action steps that The Sun Rabbit could take in pursuit of his Truth:

Raise taxes on all meats and items related to meat production
Sabotaging facilities related to the storage and shipment of meat
Actively persecuting anyone found eating meat
How large is their following?

By far, the scariest thing about zealots is their ability to amass followers with unquestioning loyalty in pursuit of their Truth. Does your zealot have influence over a handful of people in a village, or do they control an entire kingdom?
The Sun Rabbit exerts strong influence over the medium sized 'Town 4', and his reach is slowly spreading as word of his deeds travels. 
How does this relate to the party?

This has all been some fine and dandy character creation, but how the fuck does it relate to the adventuring party? Remember to maintain a focus on how the zealot's actions affects the players. If you don't ensure some link between the party and the zealot, players probably won't be invested or engaged. Consider whether the party is directly affected or indirectly affected by the zealot's actions.
An indirect example would be if the party's favorite barkeep asks them to investigate a shipment of jerky that was found destroyed on the side of the road. A direct example would be if the party orders a turkey leg and is aggressively confronted by followers of The Sun Rabbit. 
That's the gist of it! What sort of villainous zealots have you encountered or created? Let me know by sending a message to aaron@thealpinedm.com.

FREE 5 day email course
Be sure to join the email list and sign up for the FREE 5-day email course centered on running your very own homebrew campaign! You'll learn everything you need to get started, from designing a story arc to reacting to (unexpected) player choices. 
Sign Up Now!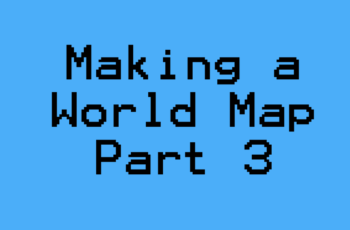 In Part 3 of 'How to Make a D&D World...
Read More