Being the Dungeon Master can sometimes feel like an overwhelming and stressful burden. Much of this anxiety, for me at least, is caused by wanting to come up with the perfect session for your players. However, at the end of the day nothing is really ever perfect (especially plans for a D&D session) so there is no point in worrying too much about it! In this article, I will teach you how to prepare for a D&D session without going absolutely crazy and pulling your hair out.
5 Steps to Prepare for a D&D Session

1: Review Previous Notes

2: Long Term Notes to Self

3: Scenes

4: Combat

5: Map Version
One-Shot vs Campaign
When you are considering how to prepare for a D&D session, you must first take into account what type of session this is going to be: a one-shot or a campaign. The general principles and steps are the same for either type of session, but it is worth taking a second to think about.
Prepping for a one-shot will probably involve a collection of 3-5 concretely developed scenes with a concise and straightforward story line. One shots tend to be a bit more "railroad-y" and less flexible due to time constraints. The great thing about prepping for a one-shot is that you don't have to worry about any past shenanigans of the party (such as burning a village down or deciding to become a group of 'liberators').
On the other hand when preparing for an ongoing campaign you absolutely should be factoring in "What happened last time?"
Some generic examples questions to ask yourself:
Where did the party leave off?
What main quest is the party working on?
What is the main "bad guy" up to?
The remainder of this article will primarily focus on how to prepare for a D&D session in an ongoing campaign, though many points will still be applicable to prepping for a one-shot.
Step 1: Review Previous Notes
When I'm planning for a session of D&D in my on-going campaign, the first thing I do is to take a few minutes to look over my notes from the previous session. Doing this will help you get into 'DM mode' and get the creative juices flowing. The notes will either be what I had prepared to run my last session, or – if I was especially on top of my shit – notes that I took after the last session concluded. 
Take notes at the end of sessions!
This can be as simple as taking 5-10 minutes jotting down your general thoughts and a brief summary of what happened. Mine are often just a few bullet points, as well as anything I need to consider or create for the next session. Admittedly I forget to do this myself the majority of the time, but when I do remember, it makes planning the next session so much easier!
Additionally, taking notes immediately after playing will make it easier to do a recap at the start of your next session – especially if you don't play every single week. 
These notes can be as simple or as intricate as you want to make them. I tend to stick to the bigger picture things, and I've found that the smaller details come flooding back to me when reviewing my notes. 
Example:
Snuck into mine, killed lizard things

Forged a key and got treasure 

Sneaky people escapades

Come up with stats for chest piece
Step 2: Long Term Notes to Self
Somewhere near the top of the paper I write down important things that are maybe going to come up sometime during the session. This could include small bits of information from past sessions, how many more artifacts are remaining, or the whereabouts of a NPC if the party is fond of casting Scry or Message.
The specifics of what you write down for long-term notes really depends on what's happening in your campaign. In general, I tend to keep these notes related to really really big picture concepts that may pop into the campaign intermittently.  
Example:
In Tomb of Annihilation, my players were searching the ruins of an ancient city for 9 specific relics. While preparing the session I jotted down the specific relics that my party had found. I also wrote down as the locations of relics still available to be found in temples, as well as relics that were owned by a group of Yuan-Ti.
Step 3: Scenes
The next step to successfully preparing a D&D session is to come up with a handful of scenes that the party could come across. I'm a fan of rather minimal preparation when it comes to D&D. I've found that things never go exactly how you plan, so it is better to come up with flexible content that you are able to adjust to the current situation.
These scenes may include a few bullet points regarding any specific details that I want to convey. This could include unique features of the room or things that are relevant to the story-line. These scenes can -and should- be used with the map you create (stay tuned for step 5). 
If you're struggling coming up with a scene description, try checking out How to Describe a Scene: The Easiest Approach for quick tips. 
Step 4: Combat
If the party is going to come across combat, I take a few moments to read over the stat block for all of the monsters involved. After this, I jot down the most basic features onto paper for quick reference. These features usually include HP, AC, and their most basic attack.
Example:
Orc AC:13 HP: 15

Greataxe +5 1d12+3 or Javelin +5
By doing this, I only have to take a few breaks in combat for looking at a monster's stat block. If there are a lot of monsters, or if you want to speed up combat, you can always pre-roll the initiative for enemies. You might also want to consider grouping monster's initiatives by group; for example I'll roll one initiative for all 5 Orcs and one initiative for the Ogre. 
Of course if you're prepping digitally you may just want to keep the statblock handy.
Step 5: Map Version
The final step, creating a map, is one of my favorite parts of preparing for a session of D&D. When I say creating a map, I don't mean some amazing artistic creation for the players to use. Rather, I'm talking about a super simple version of the dungeon map for you, the Dungeon Master, to use.
This is very barebone and serves as a quick reference for the size of the room and the relationship between rooms and corridors. Usually I'll also include a couple of main features of the room (probably related to bullet points that I've written down in my "scenes" preparation). The rooms may depict simple fireplaces, desks, or chests. I'll also mark if there are any hidden rooms, traps, or treasures – along with their respective DC. 
Making a map is really only beneficial if your party will be exploring a dungeon of some sorts (cavern, mansion, or a literal dungeon). If the party is in the middle of town, and they are not likely to get outside of town, I will typically not bother creating some sort of map. 
Summary
Step 1: Take a moment to review any notes from the past session. If you're not in the habit of taking notes after a session, give it a shot!

Step 2: Jot down any small bits of information that are relevant to the long-term campaign.

Step 3: Come up with bullet points for a few different scenes that the party is likely to come across.

Step 4: Prepare for any combat encounters by pre-writing HP for each enemy, as well as other basic stats.

Step 5: Create a small and simple version of the dungeon map. This serves as a quick reference while the party is exploring.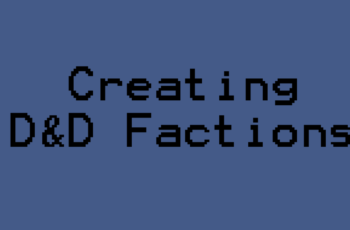 Create your own exciting D&D faction by walking through 20...
Read More