While playing, I absolutely love having either an animal companion or a mount to join the adventure. Unfortunately, more often than not, D&D 5e mounts don't play a large role in your sessions except for traveling long distances. Of course, expedited travel IS a mount's primary purpose. However I think it is vastly more fun to obtain an exotic DnD mount that matches the character's personality and is capable in both combat and adventuring scenarios.
The purpose of this article is to arm Dungeon Masters with an arsenal of exotic mounts for D&D 5e. Additionally, I will be providing tools for you to shift mounts from being a passive box for players to tick ("Do we have horses?") towards an exciting beast for the party to use in all sorts of situations. Some mounts are savage beasts who prove difficult to tame and control, while others are intelligent creatures capable of forming bonds and connections.
7 Awesome Exotic D&D 5e Mounts!
Giant Salamander
Wolferyn
Mechanical Steed
Hornet Queen
Giant Horned Beetle
Dire Jackalope
Cove Dragon
Many of these mounts are based off of existing creatures in Dungeons and Dragons, but are modified in order to reflect an alternative version that is suitable for riding. Others, however, are completely homebrewed but can fit into the existing lore of your campaign setting with ease.
These DnD 5e exotic mounts are NOT meant to be balanced in comparison with standard mounts or even warhorses for that matter.
What's the fun in that?!
If you feel that one of these mounts is over/under powered you can absolutely modify any of the attribute to better suit your campaign.
How you handle giving out these mounts to players is completely up to you. The most straightforward method is to have a city merchant specialize in rare and exotic beasts of the land. I do not include any prices for these mounts, but I recommend starting at 500gp and increasing the cost based on your campaign setting's economy and the mount's rarity.
1. Giant Salamander
Giant Salamanders can be found lazily meandering through the vibrant undergrowth and climbing among the sprawling trees of a tropical rainforest. Thanks to their colorful patterns on their body – often bright stripes, spots, or runic markings – they do not concern themselves with predators. Though not actually poisonous if eaten, their colors are similar to other poisonous amphibians which keeps the majority of potential threats at bay.
2. Wolferyn

Large Wolverines are ferocious carnivores that are closely related to weasels, though due to their appearance they are often mistaken for lean bears. Their dark brown fur is offset by large areas of lighter fur – ranging from tan to nearly white – around their face and in a stripe along their side. They are widely known for their fearless nature and bold attacks on creatures larger than them.
3. Mechanical Steed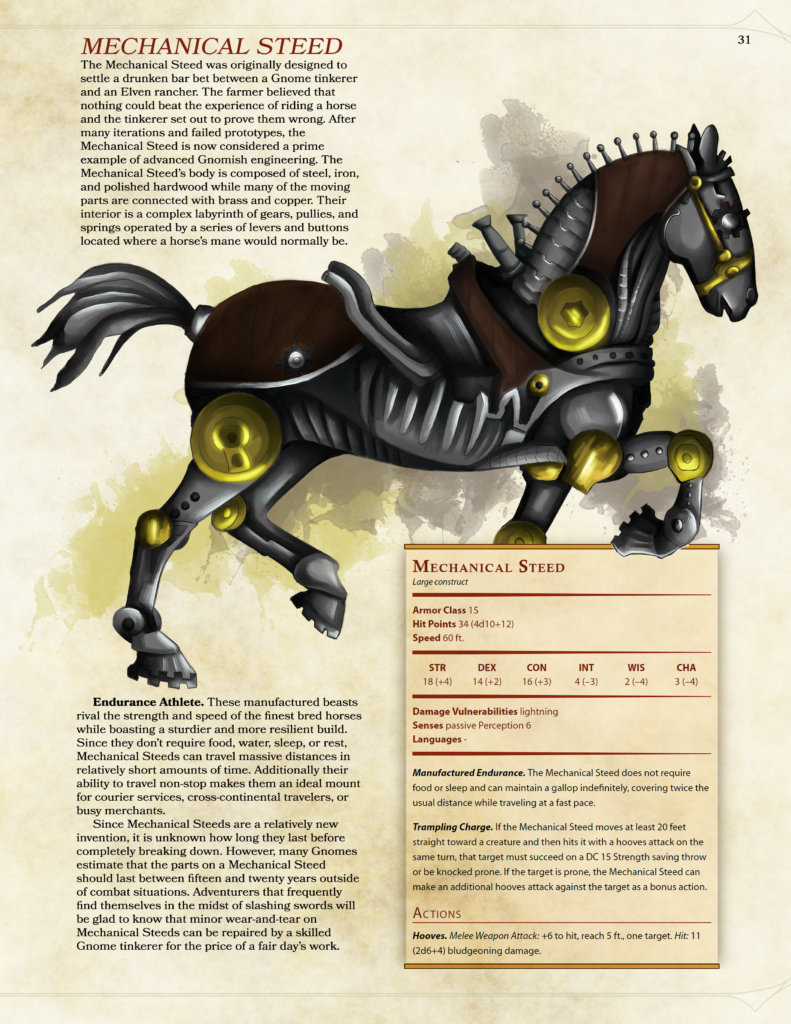 The Mechanical Steed was originally designed to settle a drunken bar bet between two Gnome tinkerers. However, due to the massive interest in the first automaton an entire industry for mechanical steeds was created. Through many iterations and failed prototypes, the Mechanical Steed of today is considered to be one of the greatest feats of Gnomish engineering. On the exterior the mechanical steed is made up of large pieces of carved and polished wood held together by brass and copper hinges. The interior is a complex labyrinth of gears, pullies, and spring operated by a set of levers located where a horse's mane would be.
4. Hornet Queen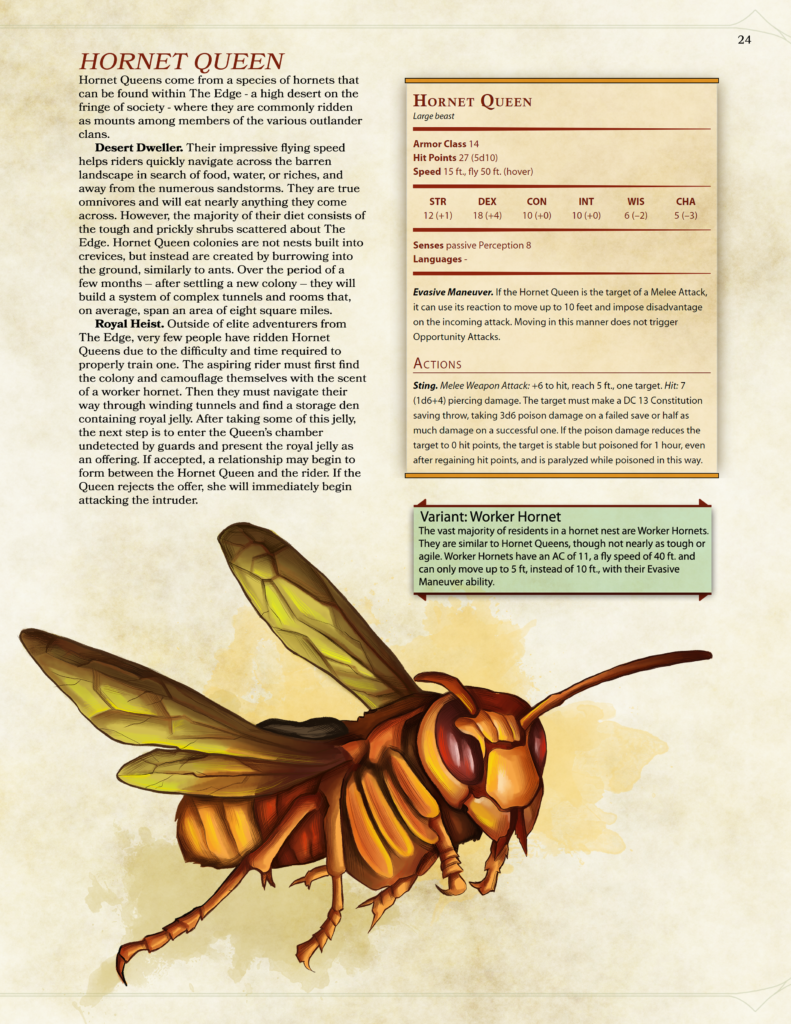 As the leader of giant hornets, these queens are incredibly aggressive and difficult to tame. However, once they are accustomed to a rider they are surprisingly loyal. Due to the risk and danger involved in harvesting larva and royal jelly from hives, hornet queens are rare to own as a mount. Usually found in a moderate climate, these queens live in large nests that can be as large as 100 yards in diameter.
5. Giant Horned Beetle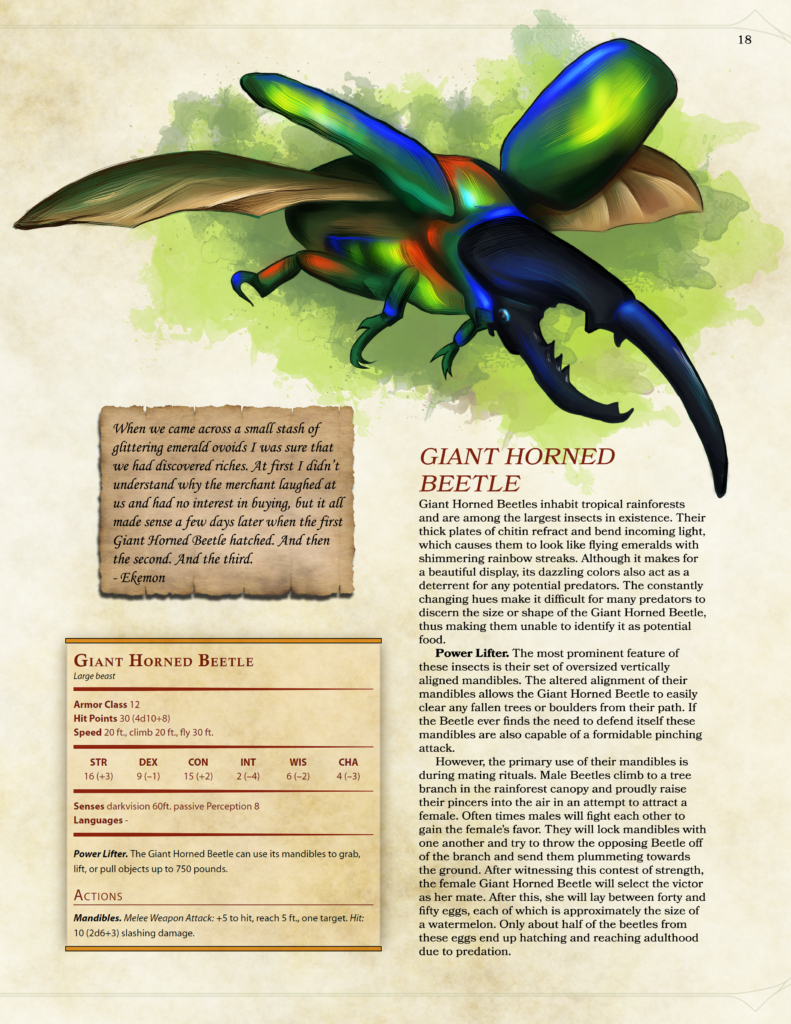 Usually found deep in rainforests, these large herbivorous insects are relatively calm and quite sturdy. Their chitin acts as a type of natural armor which often features rainbow, silver, or golden coloring. Giant horned beetles have an agreeable temperament and are commonly used as beasts of burden by rainforest civilizations. Though they are not the fastest or most dangerous mount, giant horned beetles are tough and reliable with the ability to both fly and climb.
6. Dire Jackalope
Don't be fooled by the adorable appearance, this large hybrid creature can pack quite the punch. Although the dire jackalope is commonly seen in remote old-growth forests, they are rare to see as a trained mount. Due to their fast speed and ability to jump vast distances without warning, these beasts are tough to catch. Dire Jackalopes primarily survive by eating plants and vegetation, but have been known to hunt small game when resources are limited.
7. Cove Dragon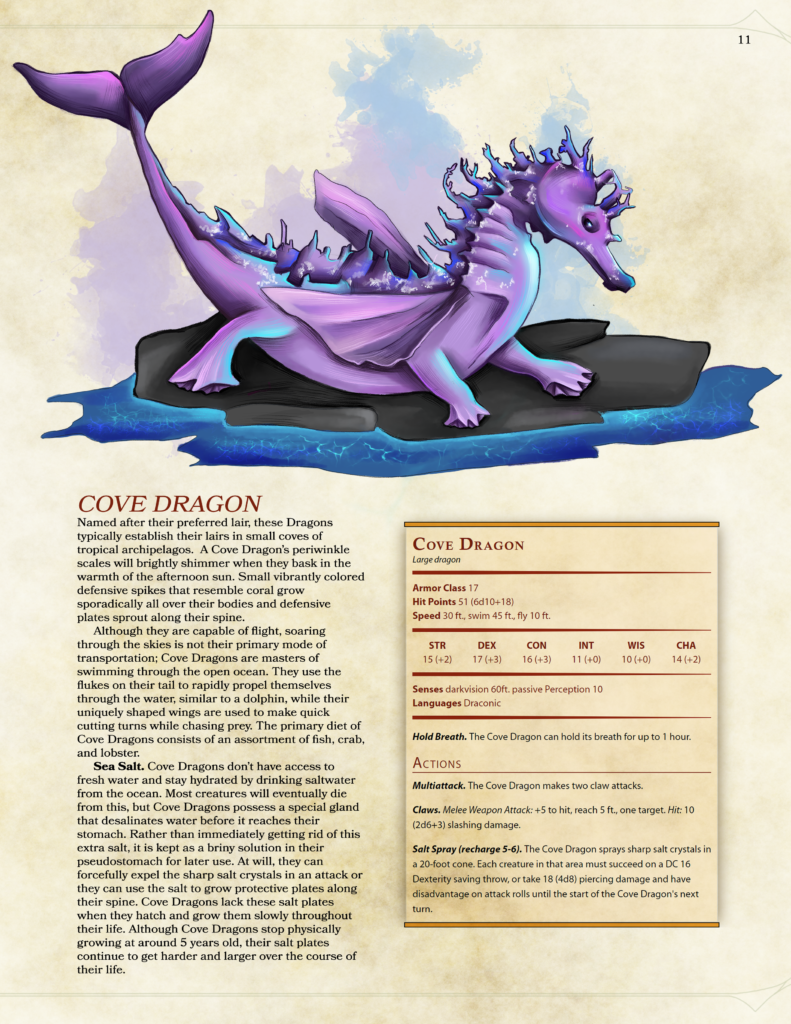 Named after their preferred lair, these Dragons typically establish their lairs in small coves of tropical archipelagos.  A Cove Dragon's periwinkle scales will brightly shimmer when they bask in the warmth of the afternoon sun. Small vibrantly colored defensive spikes that resemble coral grow sporadically all over their bodies and defensive plates sprout along their spine. Although they are capable of flight, soaring through the skies is not their primary mode of transportation; Cove Dragons are masters of swimming through the open ocean. They use the flukes on their tail to rapidly propel themselves through the water, similar to a dolphin, while their uniquely shaped wings are used to make quick cutting turns while chasing prey. The primary diet of Cove Dragons consists of an assortment of fish, crab, and lobster.
I hope you enjoyed these mounts and get a chance to use them in your home game! If you're interested in more exotic mounts, be sure to check out Ekemon's Exotic Mounts, available now!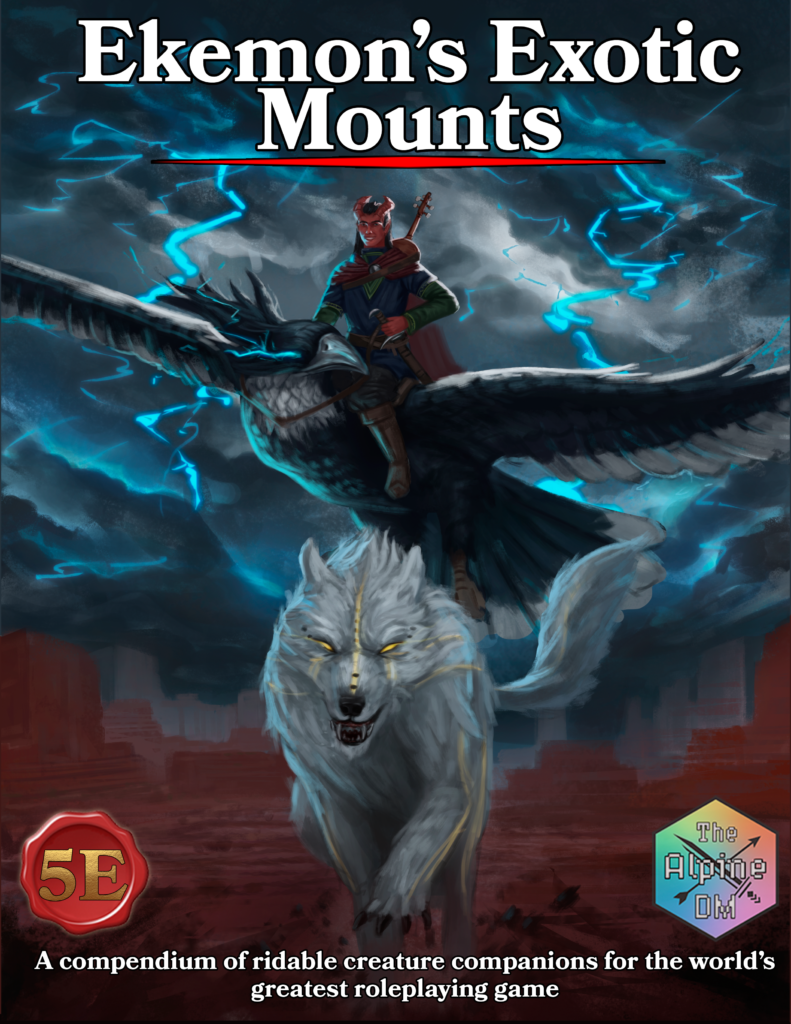 FREE 5 day email course
Be sure to join the email list and sign up for the FREE 5-day email course centered on running your very own homebrew campaign! You'll learn everything you need to get started, from designing a story arc to reacting to (unexpected) player choices. 
Sign Up Now!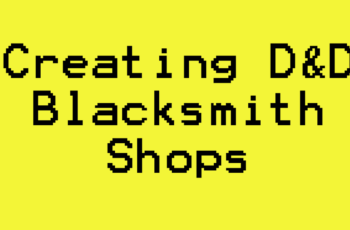 Get rid of boring stereotypes and handcraft a unique blacksmith...
Read More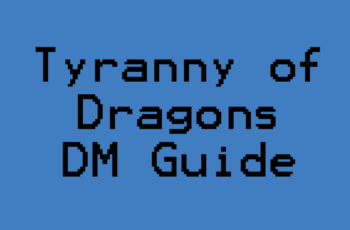 Want to fight Tiamat? Check out this Tyranny of Dragons...
Read More