So you've been able to successfully recruit somebody into the demonic cult, I mean hobby, that is Dungeons and Dragons. First of all, congrats! That is by far the most difficult part – at least in theory. The next step, and in fact many of the subsequent steps, is figuring out how to turn random dice rolls into a character who is ready to adventure and explore the realm. 
This article will cover:
A Crash-Course in Fantasy Settings, Tabletop Games, and D&D 5e
Getting Started
A General Process
A Crash-Course in Fantasy Settings, Tabletop Games, and D&D 5e
Before starting, determine the new player's level of familiarity with a few different things. Their answers here will dictate how in-depth you have to go in your academic journey of getting them learnt up. 
How familiar are they with…?
Fantasy Settings
Tabletop Games 
Dungeons and Dragons
The more familiar they are, the smoother the process will go. Since they're a new player I wouldn't expect them to know too much about D&D specifically. Ideally at a minimum they will be familiar with "general fantasy" – meaning that there'll be swords and magic and probably some castles and goblins too! However, for the sake of this article I'll assume that they have absolutely zero experience or knowledge whatsoever. 
Fantasy Settings
The easiest way to explain "general fantasy" is probably to give them examples. A classic that you could point to would be Lord of the Rings (both the films and the books). This series is a perfect jumping off point if somebody is completely new to the genre. It contains all the basic tropes: wizards, elves, dwarves, dragons, rangers, and orcs. Other examples you could point to include The Chronicles of Narnia, Harry Potter (a bit more modern with high magic, but fantasy nonetheless), or A Song of Fire and Ice.
Tabletop Games
These types of games typically take place, if you can believe it, on a tabletop. More specifically, let's focus on tabletop roleplaying games. There might be a game board and there might be pieces, but alternatively it may only be comprised of pen and paper. For these games, each person takes on a specific role (could also be considered a persona). You could be a detective uncovering a mystery, a general commanding an army, or a tiefling druid seeking to restore the vitality of a great forest. Examples of TTRPGs include D&D, Call of Cthulu, Warhammer, Savage Worlds, and GURPS. Each of these systems has different rules, settings, and a different feel to it. If D&D isn't clicking with your new player but they seem interested in TTRPGs, consider checking out some other options. 
Dungeons and Dragons
When dealing with new players, I find that its best to give them a very clear expectation right off the bat of what they'll be getting in to. I've had friends come in with wildly different expectations and others who had absolutely no idea what they were getting caught up in. These answers ranged from having no idea, to thinking D&D was a video game or a card game, but I don't think a single completely new person knew what a d20 was. Take a moment to be extremely clear about what D&D is, and about what it is not. Since you're reading this and – presumably DMing – you probably have a decent idea of what D&D is but here's a few concepts you can convey to the new player.
D&D is…
collaborative story telling 
creative problem solving
a social event with friends
rolling dice and using your imagination
D&D is not…
a perfectly crafted narrative 
for everybody
always highly visual or concrete
Consider running a simplified micro-session for your new player with a pre-gen character before helping them build a character of their very own. This will act as a sort of litmus test for whether they're engaging with any of the three core pillars of the game: combat, social interaction, and exploration.
Getting Started
As you're getting started helping your new player make their first character consider how much you want to use technology in the process. I personally prefer to make characters "old school" with the actual book, some dice, a character sheet and scrap paper. However, each method has its own unique benefits and pitfalls. 
New Way
Thanks to the internet, making a character literally could not be easier. If you're just trying to get started quickly just head on over to D&D Beyond! From here, you can create a character with just a few clicks of a button. It's super quick and does pretty much everything for you. It has a few downsides, however. You will have limited character creation options if you haven't purchased any of the books through their store. Additionally, I don't think this method does a good job of teaching new players why things are the way they are. For example it doesn't directly explain where the numbers for initiative bonus or weapon attack bonus originate.
Old Way
Ah yes, good old fashioned pen and paper! To do this method, you'll need a couple of different things:
Player's Handbook (or at least a copy of the Basic Rules)
A set of dice / digital dice roller
Scrap paper and something to write with
I have found that this method, time and time again, is vastly more time consuming (60+ minutes from start to finish for one player) however the players end up with a much better understanding of their character and of the game mechanics. Plus it's a lot more fun!
The rest of this article will focus on my general method for walking new players through the old way of character creation. I'm gonna try to lay out a road-map for you to help them, however I have heard that WotC is very protective (read: litigious) of their character creation process. So basically I'm going walk the line between vague and helpful. Hopefully enough information to still be helpful, but not enough to actually create a character. Okay here we go!
A General Process
If you're pretty familiar with the character creation process, here's the streamlined order that I would do things when helping a new player:
Roll stats, wait to assign
Pick race, write down stat bonuses
Pick class
Assign stats
Calculate HP
Write down all Proficiencies and Racial Traits
Choose starting equipment
Calculate skill bonuses 
Explain class 
I'll now go into this with a little bit more detail, but that's pretty much the process that I follow. I really don't know if it is the best way, it's just the order that I've found myself using over and over. 
1. Roll stats, wait to assign
First things first, you should probably tell them about each of the six main stats and what they mean during actual gameplay. This obviously isn't a fully inclusive description of each, but it'll give them a general idea if you're not sure what to say.
STRength – melee weapons, athletic stuff
DEXterity – ranged weapons, sneakiness
CONstitution – more hitpoints
WISdom – noticing things
INTtelligence – history and nerd stuff
CHArisma – social interactions
As far as actually rolling stats I write out 1-6 in a column on the scrap paper. Now for each row, have them roll a d6 four times and cross out the lowest one. Then have them write the sum to the right. Rinse and repeat for the remaining rows. They don't have to actually roll all of their stats. You could have them do standard array or point buy if that's your thing, but I've always actually rolled because why not.
1) 3  2  6  1  = 11

2) 5  2  4  4  = 13

etc, etc
For right now, these are just going to be some numbers on a piece of paper. Before you have them assign the stats, they'll want to know a bit more about the character they'll be playing. 
2. Pick race, write down stat bonuses
Now it's time for them to pick a race! This is a super exciting time for first time players. There's so many cool options which unfortunately means that this step can take quite a while. There's tons of lore about each of the races in this section, and eventually it would be great for them to read. The more familiar they are with general fantasy, the easier this should be for them to choose.
After they pick one, we want to jot down a few of the most important things onto our scrap paper. This includes Ability Score bonuses, Speed, Size. There is other important information, but I usually come back for that later. You're probably aware that sometimes there will be options for a subrace, so be sure to have your new player pick one of those if they need to.
3. Pick class
Now comes the most defining step in the character creation process, picking a class! Take some time with your new player to discuss the sort of role they want their character to play. In other words, "how do they fit in the party?". Do they want to attack from a distance, or get up and close during a fight? Do they want to cast lots of magic, or stick to traditional weapons? Are they trying to deal a lot of damage, or offer support to the other players? As you're going through this step, keep in mind that some classes are a lot more complicated than others (ie Fighter vs. Wizard). If they're a super noob and you're not a very patient teacher, try steering them towards a more simple class.
4. Assign stats
After they have chosen a class, have them assign their previously rolled numbers to their Ability Scores. Each class has a "main stat", so be sure to explain why it's relevant to their chosen class, and why they should probably use their highest number for that one. All of the others can be assigned based on pretty much whatever the player feels like. At this point, be sure to add the racial bonuses for their chosen ability scores!
Now determine each Ability Score modifier and write it down next to the Ability Score. The table for this can be found on page 60 of the D&D Basic Rules
5. Calculate HP
If you are just having them stay at level one, then their HP equals the maximum roll on their class Hit Dice plus their CON mod. If they're going to be a higher level right off the bat, then for each level after that you can have them roll their hit die (or not roll if you're lame) and add their CON mod.
6. Select a Background
At this point in the journey, you can have the player select their new character's background. Pose them a question: what did your character do before they became an above-average Joe? With a background usually comes a proficiency or two, a language, and a unique ability. 
Now that they've got some concrete numbers, you can have them start transcribing things to onto their actual character sheet. This includes all of the proficiencies based on their class, as well as their known Languages and other Racial Traits. Be sure to explain to them that when they are proficient with something it'll have a little filled in bubble next to it, which adds a bonus depending on their level.
7. Choose starting equipment
The next step involves assigning your new player their starting equipment. This step should be pretty straightforward but I've seen some new people get a bit overwhelmed and I'm not entirely sure why. The best advice I have is to use an index card to cover up each option except for the one that they're currently making (I hope that makes sense).
As they choose their weapons and armor, be sure to walk them through the process of calculating their attack bonuses and AC! 
8. Calculate skill bonuses
This step is pretty simple and straightforward, but still needs to be done. Basically just have write down the appropriate ability modifier (plus proficiency bonus if they proficient in that skill) next to each skill. This is also a good time to explain the differences between Skill Checks and Saving Throws, as well as explain where their initiative bonus comes from. 
9. Explain class
You're pretty much done with this very lengthy character creation process (aren'tcha glad you went with the old school method?!), but there's still one final hurdle to get over: explaining their class features. If they're starting off at a low level – which is probably best for newer players – then it won't be too complicated. I always like to start people off at level 3 so they can actually get a feel for how their class operates, but ultimately this is up to you and depends on the campaign/session you're trying to run. Otherwise I don't really have any advice for you since each class has unique abilities. Hopefully you have found this mini-guide useful for helping new players build a character!

FREE 5 day email course
Be sure to join the email list and sign up for the FREE 5-day email course centered on running your very own homebrew campaign! You'll learn everything you need to get started, from designing a story arc to reacting to (unexpected) player choices. 
Sign Up Now!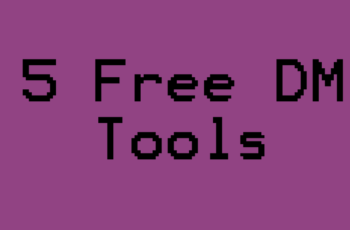 Check out these free DM tools for making your life...
Read More