In most games of Dungeons and Dragons, there's no shortage of world-ending disasters, murderous villains, or artifacts that will plague the land. Sometimes you might want to start things off a little bit slower, especially if the party isn't very high level. To help out with that, I decided to come up with a DnD Quest Board filled with notices (aka plot hooks) that are all about TREES. Mostly because trees are fucking awesome and also because this is just the article that I felt like writing today. They're all a little bit silly, but hopefully you can have some fun with them. 
Today's Article Will Discuss the Following Plot Hooks: 
Case of the Missing Tree
Deciduous Discourse
Endless Harvest
Growth Spurt
Murderous Trees
Plot Hook #1: Case of the Missing Tree
In this plot hook, a tree has vanished for apparently no reason. Possible explanations could include a planar rift, a warlock hell-bent on liberating trees from their domesticated experience, or someone accidentally damaging the tree and having it removed instead of accepting responsibility. 
Example Quest Board: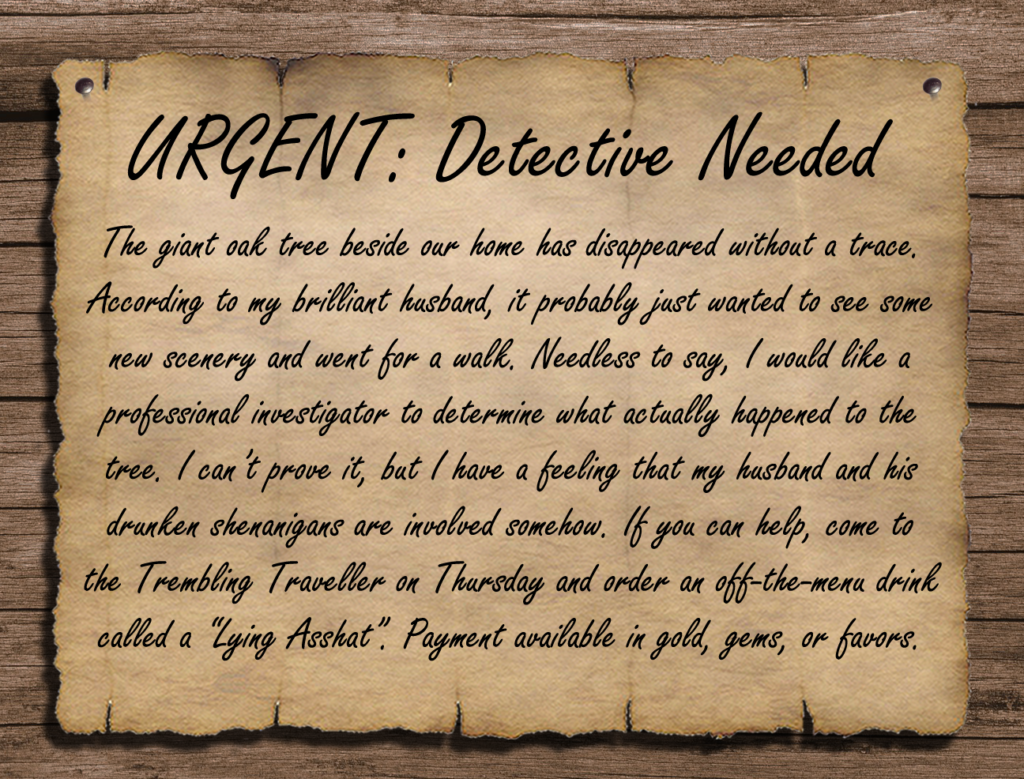 "URGENT: Detective Needed
The giant oak tree beside our home has disappeared without a trace. According to my brilliant husband, it probably just wanted to see some new scenery and went for a walk. Needless to say, I would like a professional investigator to determine what really happened to the tree. I can't prove it, but I have a feeling that my husband and his drunken shenanigans are involved somehow. If you can help, come to the Trembling Traveler on Thursday and order an off-the-menu drink called a "Lying Asshat". Payment available in gold, gems, or favors. "
Plot Hook #2: Deciduous Discourse
In this plot hook, some trees have gained awareness and the ability to speak. Possible explanations include reincarnated souls being accidentally trapped in the trees, a harmless prank by a fey lord or lady, or perhaps the trees were always aware of their surroundings but a magic ritual granted them the ability to speak. 
Example Quest Board: 
"Can you hear them? 
75 silver reward
The trees near my cottage have started mocking me in the middle of the night. My wife thinks I'm just hearing things, but I'm know that I'm not crazy. The trees are crazy and they must be eliminated. I don't care how you do it, please just make the voices stop.
Head 2 miles south of town. Turn left at the cracked boulder and keep walking. Just past the 'no trespassing' sign. Ask for Greg. "
Plot Hook #3: Endless Harvest
For this plot hook fruit-bearing trees and plants continually produce fully ripe fruit. No matter how fast the fruit is picked, the trees are fully replenished . This could be due to a druidic blessing on the land, a desperate fruit farmer making a deal with the devil to increase profits, or perhaps the trees are only producing illusory fruit. And yes I realize the image below is of a grapevine which isn't really a tree, but c'est la vie.
"EASY GOLD!
Helga's Hillside Orchard
The trees in my orchard are producing fruit faster than we can harvest. We will pick a tree completely clean, and the next morning it will be full of fruit again. I don't know why or how this is happening, and I honestly don't care. You're being hired to pick fruit and not ask questions.
Flexible hours, end-of-harvest bonus, and discounts on fruit, wine, and jam."
Plot Hook #4: Growth Spurt
Massive trees have sprouted overnight in places where trees really ought not be sprouting. Destroyed homes, inaccessible roads, and newly formed religions are all possible outcomes when these trees appear. Possible explanations include eco-terrorism (but, like, DnD-ified), errant magic from a far away mage tower, or maybe even folar slares.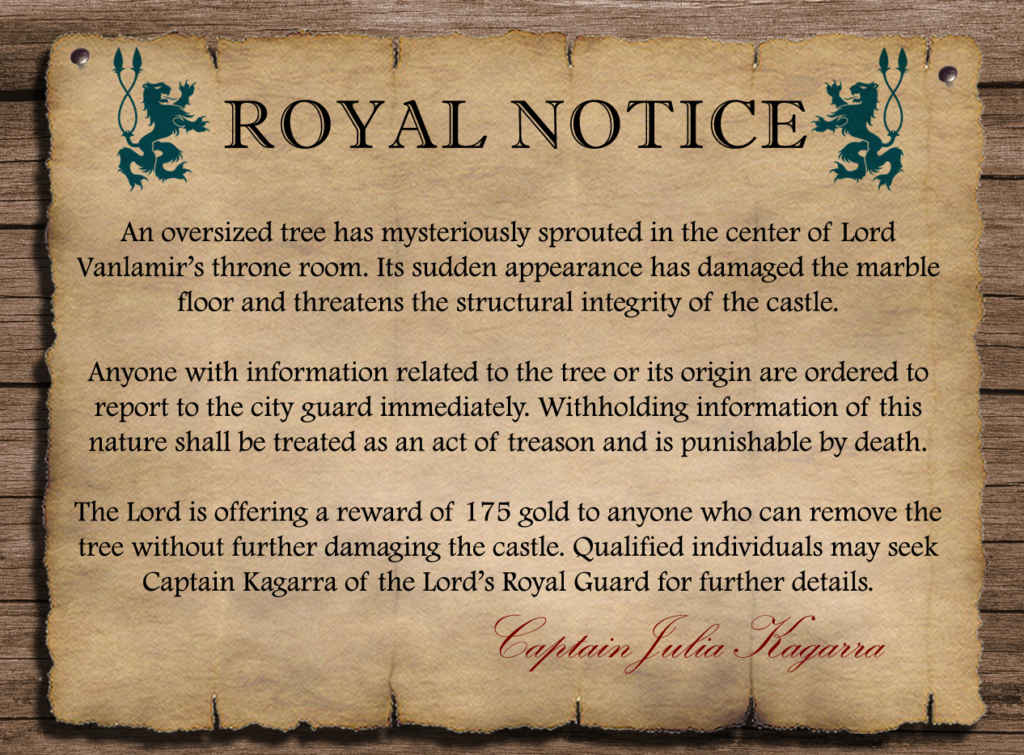 "ROYAL NOTICE
An oversized tree has mysteriously sprouted in the center of Lord Vanlamir's throne room. Its sudden appearance has damaged the marble floor and threatens the structural integrity of the castle. 
Anyone with information related to the tree or its origin are ordered to report to the city guard immediately. Withholding information of this nature shall be treated as an act of treason and is punishable by death. 
The Lord is offering a reward of 175 gold to anyone who can remove the tree without further damaging the castle. Qualified individuals may seek Captain Kagarra of the Lord's Royal Guard for further details.
Captain Julia Kagarra"
Plot Hook #5: Murderous Trees
Rise of the planet of the trees! In this plot hook, people have been dying when standing near, or interacting with, certain trees. There are lots of possible explanations for this, including:
toxic spores being released from an infection of the tree
a Lorax-type of creature who has been pushed to the limit and started going postal
the tree is acting as a conduit for an evil deity and has started siphoning souls from nearby creatures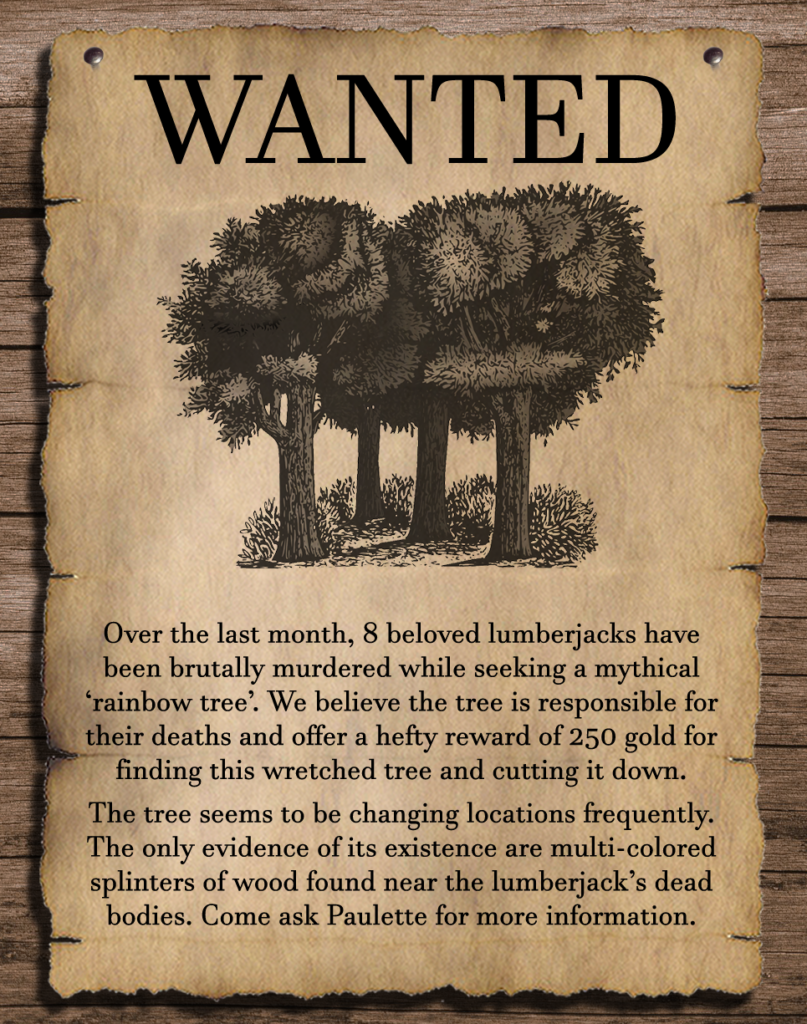 "WANTED
Over the last month, 8 beloved lumberjacks have been brutally murdered while seeking a mythical 'rainbow tree'. We believe the tree is responsible for their deaths and offer a hefty reward of 250 gold for finding this wretched tree and cutting it down.
The tree seems to be changing locations frequently. The only evidence of its existence are multi-colored splinters of wood found near the lumberjacks' dead bodies. Come ask Paulette for more information."
Thanks for reading! If there are any other plothooks you'd like to see, or if you have any ideas for an article please send me an email aaron@thealpinedm.com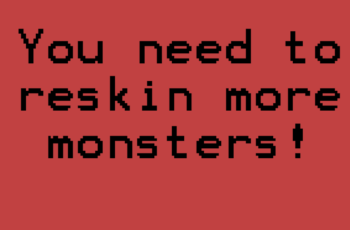 Here's a completely hypothetical scenario: The glorious day of playing...
Read More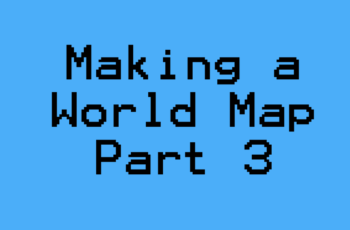 In Part 3 of 'How to Make a D&D World...
Read More