I used to spend hours daydreaming about attending a school full of mages and sorcerers and learning how to master the various arcane arts. Surely it would show up in the form of an elegant wax-sealed letter, or perhaps a spectral apparition would invite me into a portal through time and space. You can wait around forever for these things to happen – and I still kind of am tbh – but in reality, the next best thing to actually attending a mage's school is to design one of your own and explore the halls and corridors with your friends through the power of IMAGINATION! Stick around and I'll help guide you through some worldbuilding steps you can take to make your very own Arcane Institution.
Today's Article will Discuss:
What is an Arcane Institution?
Start with 'Why?'
Campus Life
A Functioning Organization
What is an Arcane Institution?
In the broadest sense, an Arcane Institution is any type of organization, club, or otherwise structured group who's primary purpose and goal is somehow connected to magic. The most common type of of Arcane Institution is a school or university, but it could just as easily be a secretive society that guards powerful eldritch secrets. However, for the rest of the article I'll be discussing building a university since that resonates with me the most.
A few examples of Arcane Institutions:
Hogwarts School of Witchcraft and Wizardry (Harry Potter)
The Mages Guild or the College of Winterhold (The Elder Scrolls)
Strixhaven (Magic: The Gathering / D&D)
If you're feeling completely clueless and lost, these are awesome source materials to reference for inspiration. But also don't be afraid to branch out and take inspiration from other sources that aren't directly related to magic and fantasy – honestly you should be doing this all the time anyway. For example, you may want to borrow ideas from Star Wars and model your institution after the Jedi Academy. You do you, boo boo. 
Start with 'Why?'
My general approach when it comes to worldbuilding is to mentally immersive myself in the setting, take a step back, and just ask 'Why?'. Why the fuck does this place exist?! The vast majority of things – from peaceful lakeside breweries to guerilla warfare training facilities – exist FOR SOME REASON. I'm not even saying it has to be a good reason, just a reason nonetheless; starting an arcane university requires a massive amount of time, resources, and talent.
Magical schools exist, of course, for the sake of education, but the school could also serve a deeper – even secretive – purpose. One institution may have a large focus on arcane research while another may exist to preserve special and powerful information. A different school's main purpose might be to produce high quality battle-mages. So sit back, throw on some awesome tunes, and start to think about the main purpose of the fledgling arcane university within the context of your campaign setting. And there's absolutely no reason that a school can't serve more than one purpose, there just tends to be a primary one.
Campus Life
Alrighty then (*in Irish accent*), the next step is to figure out WHERE your institution is located. Consider the main purpose of the school when picking a location. Some universities would do well in a highly secluded area while others thrive when placed among urban sprawl. 
Arcane Institutions are neat because they can be placed in super awesome but totally impractical locations. The founders of your school are probably some high level casters, so why not get creative? There's no reason that you can't place your school under the ocean or on the moon. Hell, your school might even exist on its own demiplane. 
After you've chosen the location, take a few minutes to think about the different buildings or areas that exist on your school's campus. What unique buildings or structures exist at your university that set it apart from other schools? Don't shy away from adding in some areas that are jam packed with some crazy magic shit just because you feel like it. 
Structures on a stereotypical campus include…
libraries
laboratories
lecture halls / classrooms
residence buildings
museums /art galleries
performing arts center
statues and fountains
bell towers
area for sports (or a magical equivalent)
administrative buildings / staff only areas
You certainly don't need to design or include all of these structures. Again, think about the school's main purpose and focus on buildings or structures that empower the school to fulfill this purpose. 
A Functioning Organization
The next step is to hammer out some of the details that make your arcane institution unique. I'm now just going to throw out a bunch of questions that will hopefully get your brain engaged. 
How do people enroll and become a student?

Invitation only, application, practical test, etc

How long do students typically spend there?
How much is publicly known about your Institution?

Most everything is broadly known vs. being highly secretive about all aspects

How many students and staff exist within your school?
Does the school have an insignia, 'saying', mascot, or other uniquely identifying symbol?
What is the leadership structure?

This could be a single headmaster/dean, a board of individuals, a mix of the two, or something else entirely

Are there any specialized colleges or sub-schools?

You can have a lot of fun with this and can take this concept in a lot of different directions. One school might have a special department for each of the Schools of Magic. Another institution might have a college for major subjects of academia that can involve magic such as alchemy, herbology, astrology, or zoology. Another options would be having the university's colleges represent a functional outcome of the magic. This could include a 'College of Subterfuge', a 'College of Transportation', a 'College of War Magic', or a 'College of Entertainment'. 

What sort of skills or classes are taught?

These are probably based off the specialized colleges or sub-schools, but will be a bit more specific. There's no wrong answers here and you can come up with as many or as few are required for your planned adventures. But, again, keep your Arcane Institution's overall purpose in mind. 

A few example classes…

An Introduction to Using an Arcane Focus
Basic Principles of Summoning Fey
Techniques for Maintaining Concentration
Advanced Theories on Rifts and Extra-planar Portals
The History of Fireball and Other Controversial Spells 
Elemental Magic 101
Physiology of Pseudodragons

Does the institution have any specialized libraries, resources, or staff?

Maybe your school has a critically acclaimed teacher. Or maybe it's known for its extensive knowledge on demons. This is another area to really make your Arcane Institution unique.
Thanks for reading, hopefully this little guide was helpful for your worldbuilding adventures 🙂
What sort of Arcane Institutions have you created? Let me know at aaron@thealpinedm.com!

FREE 5 day email course
Be sure to join the email list and sign up for the FREE 5-day email course centered on running your very own homebrew campaign! You'll learn everything you need to get started, from designing a story arc to reacting to (unexpected) player choices. 
Sign Up Now!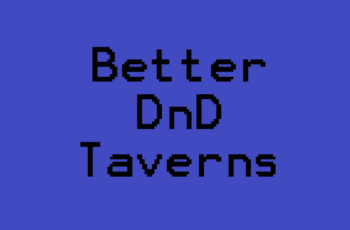 Taverns, pubs, bars, inns, drinkin' holes, speakeasies. Whatever you want...
Read More