Here's a completely hypothetical scenario: The glorious day of playing Dungeons and Dragons with your pals has finally arrived! One small, teeny tiny detail is that you are the Dungeon Master and it turns out you didn't really prep a whole lot in the 'encounter' department for your upcoming session. Instead of panicking and frantically flipping through the Monster Manual to find a creature that the party is likely to come across, you – being the creative genius that you are – decide to pick a monster that's close enough and simply reskin it to seamlessly fit into the campaign. Your players are none-the-wiser, and you've saved yourself the headache of either finding the perfect monster or homebrewing one.
Today's Article will Discuss:
What is reskinning a monster in DnD?
Why reskin monsters?
Examples of reskinning monsters
What is reskinning a monster in DnD?
No, this has nothing to do with the barbarian in the party who constantly tries to wear the skin of dead enemies. Reskinning a monster in DnD is when you change the appearance, personality, and lore of a creature -or any other aspect that exists purely for flavor- while keeping the statblock and mechanics completely unchanged.
Think of the stat block like the chassis of a car and reskinning it like a interchangeable frame (or whatever the main shape is called, I don't really know car stuff…). Since the chassis remains untouched, the car's primary function and ability to drive remains the same. However, with a different frame, your car could go from looking like a sportscar to looking like a van. Nothing has changed except for the exterior look of the car, and probably some new cupholders.
There are instances where you may want to make a few slight adjustments to the statblock, and that's okay too! This might include things like damage type, senses, or skill proficiencies. 
Why Reskin Monsters?
There are a few different reasons that you might want to reskin monsters for your DnD campaign. Here are some of the most common reasons that I could think of:
Players at your table are TTRPG veterans and are difficult to impress
You want to use a specific monster, but it doesn't fit the theme of your campaign
You have a cool idea, but don't want to make the monster from scratch
Players at your table are TTRPG veterans and are difficult to impress
If everybody at your table has been playing Dungeons and Dragons for many years (or they're very familiar with stereotypical fantasy tropes), there's a good chance that they've 'seen it all before'. They may be particularly hard to impress if they've played in multiple low-level campaigns. "Oh, the merchant caravans are being attacked by bandits? How unique." Reskinning common monsters can help you mitigate this.
Of course, simply reskinning a monster is not a replacement for having rich NPCs, an intriguing plot, and meaningful PC choices. Running a Dragon as though it's an Astral Whale won't do you any good if the other aspects of your campaign are lacking. BUT reskinning monsters can add a little bit of zest to your table without requiring a bunch of extra work. 
As a bonus, reskinning monsters prevents experienced players from using metagame knowledge. It doesn't matter if players have the Troll statblock memorized if the creature they're fighting isn't described like a Troll.
You want to use a specific monster, but it doesn't fit the theme of your campaign
The abilities of some monsters in the Monster Manual are fucking awesome, but often times it wouldn't make any sense to insert them into the campaign. Instead of just admitting defeat to yourself or suddenly changing the rules of your campaign's universe, you can do the 'ole skin-swap and get things back on track.
Just because the PCs will be in the icy tundra for the foreseeable future doesn't mean that you can't look at other non-arctic monsters, especially if you think they're cool and would be fun to run in combat. Who says you can't pretend a Bulette was a Frost Mole? (nobody, that's who)
You have a cool idea, but don't want to make the monster from scratch
If you've got an active imagination like me, you're constantly thinking of different monsters that would be cool in DnD. Making a completely unique homebrew monster can be intimidating, and combat could end up completely unbalanced if you aren't very experienced with homebrewing. The next best thing, and by far an easier option, is to pick an existing monster that is close enough to the idea in your head and completely change its physical description. This isn't a perfect solution, but if you're in a time-pinch this is a really simple way to bring your idea to life.
Examples of Reskinning Monsters
So that's all fine and dandy in theory, but what about in practice? The concept is pretty simple really, so I'm not going to spend a bunch of time discussing different examples. It can be literally anything you want, the only limit is your imagination. 
Instead of pesky Goblins or Kobolds, the local village's farmers are having trouble with different Mushroom Warriors
Rather than a Beholder, the party must do battle with an artificer's automaton hydra
The spooky forest isn't filled with Dire Wolves, but there are many large rodent-like Rabid Squirrels that must be dealt with
That's really all there is to it! Thanks for reading the article, and I hope you found this quick tip helpful for your upcoming campaign prep. 
What's the coolest monster that you've reskinned in DnD? Let me know by sending an email to aaron@thealpinedm.com

FREE 5 day email course
Be sure to join the email list and sign up for the FREE 5-day email course centered on running your very own homebrew campaign! You'll learn everything you need to get started, from designing a story arc to reacting to (unexpected) player choices. 
Sign Up Now!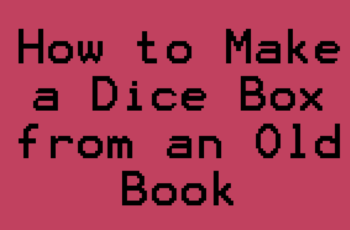 Want to store your dice in an arcane tome? Well...
Read More
Are you currently running Tomb of Annihilation? Get some tips...
Read More