"Prepare the cannons and close the gate, for the enemy attacks at dawn!" – some dude who knew about an incoming siege, probably. I've only actually ran a siege scenario once before, so this article is a combination of how I thought about things while prepping, and things I wish I had done differently after running the session. It'll be one of the less-crunchy, more-abstract articles, so if you're cool with that go ahead and keep reading. 
Today's Article will Discuss:
What is a Siege?
Planning the Siege

The Attackers
The Defenders

Running the Siege

Heavy Artillery
Foot Soldiers
Chaos
What is a Siege?
Before you can run a siege combat situation in D&D 5e, you really ought to have a basic idea of what a siege even is. Essentially sieges are highly coordinated attacks against a well defended location. Typical targets for sieges include castles, fortresses, cities, bunkers, or sacred locations. During a siege, the two opposing sides play very clear roles: one side is attacking and the other is defending. 
Sieges almost always involve heavy artillery, thus the term 'siege weapons'. These weapons are designed to tear through tough walls and barricades, and allow the attacker to charge into the stronghold's vulnerable center.
Examples of Siege Weapons:
Catapult
Ballista
Trebuchet
Cannon
Battering Ram
A Railgun operated by Airship Pirates Privateers
Planning the Siege
Like I mentioned in the last section, there are two sides to a siege: Attack and Defense. In this article I'll be operating under the assumption that the party is defending the town/castle/etc from an attacking army/baron/whatever. This means that you'll probably spend far more time prepping The Attackers. That being said, I'd still advise you to spend a little time thinking about The Defenders and the role that your party plays.
The Attackers
These are the dudes trying to obliterate the walls of the nation's capitol. While prepping your siege session, you'll want to think about two main questions in regards to The Attackers: who are they and what do they want?
Who are they?
Planning and executing a siege takes a lot of time, energy, and manpower; they don't just happen all willy-nilly. The Attackers are probably a very formidable force within your game world, and your job as the DM is to represent that throughout the siege. Think about the sort of things that The Attackers would have access to including information, weapons, soldiers, or magic. Be sure to have The Attackers (try to) utilize these resources during the actual siege. 
What do they want?
Again, if somebody is laying siege to a location with strong defenses they're probably not fucking around. The Attackers should have a very clear and concise goal during the siege. 
A few examples:
Infiltrate the location and kill everybody
Eliminate militant Defenders and seize control of the location and all surviving civilians
Capture a person or steal an object from the location
The goal of the attackers will dictate their plan of attack – I know, it's kind of a crazy concept but stick with me here. A siege with the goal of capturing a prominent leader of The Defenders will be ran differently than a siege with the goal of killing everybody and burning everything to the ground. Put yourself in the shoes of the military commander who is planning the siege. How would you approach the situation in order to achieve your goal?
Running a siege is one of the few times that I actually support planning out the session in great detail – otherwise I'm a big fan of having minimal prep and maximum improvisation. The reason I want you to plan in detail is that there may be a lot of moving parts during the siege. If you don't have all your ducks in a row, chaos will surely ensue. "What do you mean there's still 4 catapults firing at the tower? There were only 5 to start with and we've blown up 3 of them. "
Sprinkled throughout the rest of the article I'll be loosely planning through an example siege so you can see the thought process in action. 
The Siege of Stoneport: The Attackers

Who: A large clan of pissed-off Dwarves

They have access to ~75 brutish Dwarven soldiers, 3 flying machines, and 5 catapults
Minimal, if any, magical support
They are highly familiar with the target location's strengths and weaknesses

What do they want: To seize control of Stoneport from a rival clan

Focus attacks on opposing clean leaders
Minimize harm to civilian Dwarves
Do not destroy culturally significant buildings
The Defenders
On the flip side we've got the people who would prefer if their city didn't get raided and burned to the ground, also known as The Defenders. 
Similarly to The Attackers, you'll want to take a few moments to consider what defenses exist. It'll probably consist of a handful of soldiers, a few sets of walls and towers, and maybe even a mounted ballista or two.
Since this is the side that your players are on, you probably don't want to do too much prep for The Defenders. Make sure that the players stay in the spotlight! I think it's far more important for you to think about the location(s) that players might be defending. For example is there a main gate? Are there multiple sets of walls? Do the walls have walkways atop them?
If you're a fan of using maps/grids – or honestly even if you don't – then you should briefly think about the layout of each of these 'defensive locations'. Unless you know ahead of time where your players want to focus their defensive efforts, it's better to keep a few options in your back pocket. 
The Siege of Stoneport: The Defenders

The players will have a few different options presented to them and they may even want to – dare I say it? – split the party.

Man the cannon atop a tower
Guard the main gate
Perform a sneaky side ambush from outside the location
Hold the throne room
Running the Siege
After you've done some thinking and planning for the siege, you'll want to figure out how to make it come to life for the table. Shifting from a worldbuilding mindset towards a storytelling mindset (us DMs get to wear many different hats, wahoo!), consider what makes a siege feel like a siege?
I like to think about the first Pirates of the Caribbean movie when the undead fuckers attack the city and Jack Sparrow is able to escape his cell.
There are 3 main concepts in this scene that I tried to recreate for a siege-y feel
Heavy Artillery
Foot Soldiers
Chaos 
Heavy Artillery
Remember when you were supposed to think about The Attackers and the different weapons they have access to? Those weapons are going to come in real handy right about now. When you're ready for some stats for the siege weapons you've picked out, check out ~pg. 255 of the DMG. 
As far as the actual attacks, I described them in a theatrical sense until it came to combat time. When this happened (combat time triggered as they met a group of the foot soldiers, more on those shortly) I started having the siege weapons fire on Initiative 20. I didn't actually make attack rolls with the siege weapons since I wasn't trying to absolutely obliterate a character with a cannonball; The siege weapons were more of an environmental effect.
If the players are in an area being targeted by The Attackers' heavy artillery, then on initiative 20 I rolled a percentile die to see where the attack would land. Whether (and how) this method works can really depend on the specific layout of your battle area, but I basically mentally split it up into quadrants and associated a percentile score with a quadrant (1-25 is bottom left, 26-50 is bottom right, 51-75 is top left, 76-100 is top right)
If a player (or players) is in the attacked quadrant, they'll have to succeed on a Dex save or take some damage from flying debris. If you have absolutely no idea what to make the DC or damage, I'd go with a DC 15 Dex save and use half the dice as the original siege weapon's attack.
Be sure to describe the changing landscape as it gets blasted by artillery fire. Also if/when the party starts destroying some of the siege weapons, be sure this is reflected in the frequency of attacks. It's your responsibility to make their efforts have an impact on the world.
The Siege of Stoneport: Heavy Artillery

Combat begins! Initiative 20 comes around and the party is positioned near a guard tower that's under siege. Rolled a d100 and got a result of 83, which means the cannon attack hits in the top right (from the DMs perspective) of the battle area. Two players are here and each must make a DC 15 Dex save to dodge out of the way of some shrapnel sent flying by the cannon. One fails and must take 4d10 bludgeoning damage.
Foot Soldiers
Just like in the video, your siege will probably have a bunch of ground troops (or even air troops, but I'll be referring to them as foot soldiers for simplicity's sake) rushing in to take advantage of the weakened defenses from artillery strikes. The Attackers storm the castle gate pursuing their goal with fervor. 
Similarly to the heavy artillery, a large amount of the foot soldiers will be more for theatrical effect than for actual combat. I tried to describe a bunch of the lackeys running through the streets and getting into scuffles with The Defenders. Describe it as a struggle between the two forces, but make it clear that the characters have bigger fish to fry: Hit Squads.
Hit Squads consist of a few tough soldiers under the command of an even tougher captain. If this were a movie, people in the Hit Squad would likely have names. These Hit Squads will be the primary combat encounters for the party during the siege so consider the level of your players when designing Hit Squads.
You may also want to keep their goal in mind when picking enemies for Hit Squads. If their goal is to destroy the town, give them a bunch of explosives or destructive magical abilities. However if their goal is to kidnap a person of importance, make them speedy and evasive. The more thoroughly you have planned the siege, the easier it should be to design these Hit Squads. 
Side Note: The party may not be able to stop all of the Hit Squads immediately. Be sure to have the party decisions actually matter. For example if they can tell that one Hit Squad is headed towards the castle and another is headed for the blacksmith, they may have to choose who to defend first. There should be consequences for their decisions. It's not like you need to automatically kill the blacksmith if they go defend the castle first, but perhaps he is gravely wounded, his shop ravaged, and precious blueprints stolen. 
The Siege of Stoneport: Foot Soldiers

The Attackers have sent in a wave of foot soldiers (mostly cinematic) followed by 3 Hit Squads, each of which is attempting to work their way towards the capitol building from a different area of the city.

Each squad consists of a Bandit Captain and 3 Bandits. 
Chaos
The final piece of the siege puzzle is to have a touch of chaos in the air. In the Pirates clip, there's a brief scene showing a child who is just standing there crying. People are running around behind him, fights are happening in the street, and blazing buildings are starting to crumble. And then the scene changes. There's no story narrative here and the child isn't a person of importance. The scene exists solely to convey to you that SHIT IS FUCKING BONKERS AND THE CITY IS UNDER SIEGE. 
Here's a list of things that seem chaotic. Many of them will be related to the heavy artillery and foot soldiers. 
Fires
Explosions
People fighting in the streets
Crowds panicking and running in every direction
Loud noises
People dying
NPCs bumping into characters as they flee
I tried to recreate this sort of chaos through descriptive narrative, primarily at the start of the siege as players are planning out what they're going to do. One thing that I don't recommend (and something that I would do differently next time) is to do any dice rolls for things that exist purely to establish the scene. 
You can still have placeholders or tokens on the map to represent lackeys or commoners, but instead of having them be a part of combat (and have their own initiative) I would instead just describe what's happening every few turns. When I included some of these 'side fights' during combat, I thought I was doing a better job of realistically representing the tides of battle changing. In reality I'm pretty sure it only ended up taking the spotlight away from the players because I felt like I had to take so many god damn turns between the players' turns. Learn from my mistakes and maybe don't do that. 
If you've ran a siege, how did it go? Let me know by sending a message to aaron@thealpinedm.com!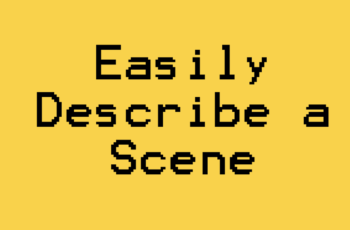 Learn how to easily describe a scene for D&D 5e...
Read More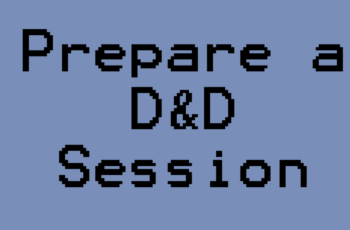 Learn how to efficiently prepare for your next D&D session!...
Read More