A typical high-fantasy town wouldn't be complete without a few key locations: a tavern, a general shop, and of course a blacksmith. Whenever I think of a blacksmith's shop in D&D I can't help but imagine a burly barrel-chested NPC with a gruff voice. Oh, and they're also probably either a Dwarf or a Half-Orc. In addition to their stereotypical existence, I feel as though their shops always come across as rather generic and cookie-cutter.
Is this perhaps because I didn't adequately prepare for the session and ate a gummy 30 minutes ago? Of course not…don't be ridiculous (pro tip: your DM is definitely always super duper prepared and is never taken off guard). Instead, it's because I've never really taken the time to sit and *think* about blacksmiths and their place in the world. Today's article will primarily consist of 15 different worldbuilding questions to help you design better blacksmith shops for D&D!
What is a blacksmith?
First and foremost, let's get this out of the way. The simplest answer is that a blacksmith is somebody who works with metal. They get the metal really hot and then hit it with a hammer to turn it into a sharp stabby thing, or into a blocky thing that prevents sharp stabby things from stabbing. 
In a slightly more serious sense, a blacksmith is an individual who works with iron and steel. There are also whitesmiths (tin), brownsmiths (copper and brass), and goldsmiths (use your imagination), but these are rarely talked about, let alone portrayed in D&D. Blacksmiths create all manner of items related to fighting baddies, including swords and armor. But don't forget that they also crafted items that were necessary for everyday life – nails, horseshoes, and tools. 
And with that brief introduction out of the way, I'd like to jump into the meat of this article and start talking about designing a memorable, unique blacksmith experience.
15 Questions for Worldbuilding Blacksmiths
Who is the blacksmith?
How experienced are they?
Do they have any specialties?
What items and ingredients do they have in stock?
Do they have any arcane abilities?
Where is their forge located?
How large is their forge?
How do they sell their wares?
Do they take custom requests?
Who is their typical customer?
Do they have an apprentice?
What is the state of their forge?
How is their shop/forge decorated?
What are they struggling with the most?
How do they feel about blacksmithing?
1. Who is the blacksmith?
This is probably the most important question on the whole list. You will be bringing the shop to life through this NPC and their interactions with PCs. If you want to create a truly memorable experience for your players, try to spend as much time creating the blacksmith as you would any other important NPC. Think about their personality traits, physical appearance, and worldly motivations.
2. How experienced are they?
Is the blacksmith a 317 year old elf who could craft a masterpiece with their eyes closed, or is the blacksmith a 20-something nitwit who can barely piece together a sword? There doesn't have to be any mechanical changes due to their experience, or lack thereof, but a veteran blacksmith will probably provide a very different experience for the PCs compared to a novice.
3. Do they have any specialties?
Blacksmiths are capable of creating all sorts of different items, but like with any craftsman they might have a certain item that they are really good at making. Maybe your blacksmith specializes in making durable armor for horses, or perhaps they can craft a variety of different axes. 
4. What items and ingredients do they have in stock?
Although it's always convenient to have NPCs fully stocked and ready to trade, the reality is that they might not always be able to provide instant service to the party. Think about the blacksmith's specialties (if they have any), as this will dictate what items they have in stock. A blacksmith that specializes in making tools for agriculture might be capable of creating whatever the PCs need, but they won't necessarily have it in stock.
5. Do they have any arcane abilities?
This separates the good blacksmiths from the absolute legends. Not only are they capable of crafting swords that cut through bandits like a hot knife through butter, but they can also provide an enchantment service for that little extra bit of razzle-dazzle that every adventurer desires. This might be as simple as a +1, or they may be able to add elemental damage to a weapon. The sky's really the limit with this one, but the extent of their abilities will heavily depend on your campaign setting.
6. Where is their forge located?
Can their forge be found within the bustling streets of a metropolis, or is it located 5 miles outside of town near the edge of the spoooooky forest? Maybe the forge isn't even indoors. Expert blacksmith shops are probably going to be located in much more difficult-to-reach places, such as deep within a mountain or even within a pocket dimension.  
7. How large is their forge?
Take a moment to consider what sort of operation is the blacksmith running? Do they only have a single anvil with just enough space to get by? Maybe the blacksmith is also a highly successful businessperson and is able to mass produce items in their warehouse-sized operation. A larger forge will require more tools and a greater workforce.
8. How do they sell their wares?
Aside from crafting items, blacksmiths must also sell their creations or they would soon be out of business. There's a few different ways that blacksmiths can sell their goods, and it will probably depend on the size and scope of their operation. They might just have items lying around their workshop or stuffed into open barrels and crates. On the other hand, the blacksmith may craft items in the forge, but may have a separate storefront where they conduct business transactions. Maybe your blacksmith sets up a booth at the market, or maybe they only sell their work via exclusive contracts.
9. Do they take custom requests?
Although you (and especially your PCs) may think that every blacksmith would take custom requests for work, this might not be the case. They could have a massive backlog of work that needs to get completed before they are able to work on any other projects, or they might have regularly scheduled projects that consume most of their time and resources- such as needing to produce 2 swords each week or the Crown will come for their head. Of course, this doesn't have to be a black-and-white issue and they certainly might change their mind when a PC threatens to burn down their shop and dance amidst the flaming rubble while laughing upon a PC's successful Intimidation Check.
10. Who is their typical customer?
If the blacksmith has any sort of specialty service, they probably also have a typical customer that they serve. For example, a generic blacksmith's customer will likely be an everyday citizen perhaps looking to get their shovel repaired or replaced. Alternatively, a blacksmith that specializes in crafting plate mail will regularly be dealing with military personnel. 
11. Do they have an apprentice?
Although the majority of PC interactions will probably go through the blacksmith, they may also have an apprentice that would be present for all of the conversations. Often times the blacksmith's child or relative will serve as the apprentice, but this doesn't necessarily need to be the case. The apprentice could serve as the intermediary between the blacksmith and the party in situations where the blacksmith is extremely busy or sought after.
12. What is the state of their forge?
The state of somebody's desk, bedroom, or car can tell you a lot about them. Likewise, the state of a blacksmith's workshop can be very informative and useful for building a scene. Consider whether their shop is an absolute chaotic mess with tools strewn about, or whether everything is meticulously kept and orderly. Additionally, you may want to consider the state of the actual equipment in the workshop. Is everything state of the art, or is it a Christmas miracle that the bellows even work.
13. How is their shop/forge decorated?
The manner in which a workshop or storefront is decorated can also be used to help build the scene and set the tone for any NPC interactions. You don't need to come up with an expansive list of décor, just one or two things will do just fine. If the blacksmith is also an avid outdoorsman, they might have a few sets of antlers hanging on their walls. On the other hand, if the blacksmith is a die-hard patriot their workshop might be decorated with various sigils, flags, or phrases related to their nation.
14. What are they struggling with the most?
Just like any other business, blacksmiths are going to face struggles during their entrepreneurial journey. This could be related to difficulty in getting enough raw materials or in hiring suitable workers. The blacksmith may be struggling with finding work, or they could be facing some fierce competition from some snooty-ass muthafuka down the road. Introducing problems that the blacksmith is dealing with will give them a bit more depth as an NPC, and will also give the PCs a chance to assist the blacksmith on a mini-quest of sorts.
15. How do they feel about blacksmithing?
Does you blacksmith feel as though smithing is a tiresome passionless chore that they do in order to feed their family, or do they view smithing as the purest form of art where every hammer blow is done with the precision and elegance of a poet's quill. Everybody doesn't love their job in real life, so why would everybody love their job in fantasy-land? Remember that the blacksmith can be a multi-dimensional character with a variety of interests and hobbies outside of their actual profession. 
Hopefully these prompt-type questions have been useful to you and will help your party's next interaction with the town's blacksmith be a more memorable experience. Thanks for reading! 
The Rift to Rhymorra – Coming to Kickstarter APRIL 22!
I'm incredibly excited to say that my second TTRPG supplement will be launching on April 22. The Rift to Rhymorra: A Guide to the Spirit Realm features over 25 monsters, a buttload of magic items, detailed unique locations, and a brand NEW PLAYABLE CLASS! You can see an example from the book below, River Pixie, and can follow along the project over at Kickstarter!

FREE 5 day email course
Be sure to join the email list and sign up for the FREE 5-day email course centered on running your very own homebrew campaign! You'll learn everything you need to get started, from designing a story arc to reacting to (unexpected) player choices. 
Sign Up Now!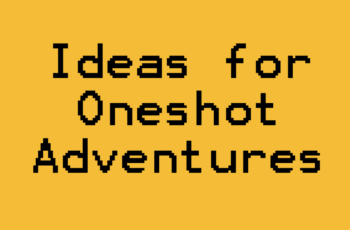 When coming up with DnD oneshot adventure ideas, don't get...
Read More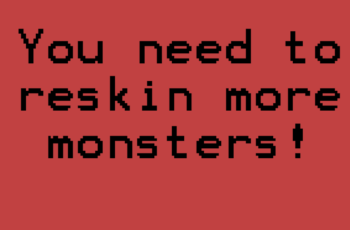 Here's a completely hypothetical scenario: The glorious day of playing...
Read More